Medical Myths That Can Kill You: And the 101 Truths That Will Save, Extend, and Improve Your Life (Abridged / Compact Disc, Abridged)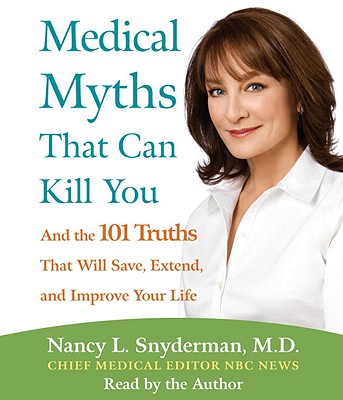 Description
---
Do you know what's really good for you?

In this age of countless miracle cures, it's vital to separate the myths that endanger your health from the medical facts you need.

FACT:
Unfiltered coffee can clog your arteries.

FACT:
Donating blood may lower your risk of heart disease.

FACT:
You don't really need eight glasses of water a day.

FACT:
Coughing won't help if you're having a heart attack. (But aspirin will!)

We've become a nation of cyberchondriacs, diagnosing ourselves with false information and half-truths found on sketchy websites. In Medical Myths That Can Kill You, Dr. Nancy Snyderman, chief medical editor for NBC News, provides clear, practical, scientifically proven advice that can lead you to a healthier, happier life.

Discover the simple, everyday things that affect well-being, and get the information you need to revitalize your body, maintain your longevity, manage your care, and possibly even save a life–yours.
About the Author
---
Nancy L. Snyderman, M.D., F.A.C.S., is the chief medical editor for NBC News and reports for Nightly News with Brian Williams, Today, and MSNBC. She also has an academic appointment in the Department of Otolaryngology--Head and Neck Surgery at the University of Pennsylvania. Prior to joining NBC News, Dr. Snyderman served as a medical correspondent for ABC News, then spearheaded a digital project at Johnson & Johnson. She has received numerous broadcasting awards and grants from the American Cancer Society and the Kellogg Foundation.
Praise For…
---
"Dr. Nancy Snyderman debunks popular medical myths that are dangerous to your health in this practical book. I recommend it for its sound advice about self-care and intelligent use of medical tests and treatments."
—Andrew Weil, M.D., author of Healthy Aging

"Millions of people listen to what Dr. Nancy Snyderman has to say and for very good reason. In Medical Myths That Can Kill You she gives lifesaving advice that cuts through the current medical confusion to tell you what you really need to know today to live a long and healthy tomorrow."
—Dean Ornish, M.D., author of The Spectrum

"In her typical fun yet authoritative fashion, Dr Snyderman saves lives by busting the 7 greatest myths that pierce our health."
—Mehmet Oz, M.D., bestselling author of YOU: Staying Young and YOU: On A Diet

"In Medical Myths, Dr. Nancy Snyderman takes you where you have never been--into her heart, her wealth of experience as a pediatrician, surgeon, and medical correspondent, and into her life. This book is unlike any other. Reading it will give you the same information, knowledge, and compassion as if you sat down with your best friend who happened to be a highly experienced, wise, and warm physician."
—Alice D. Domar, Ph.D., Executive Director Domar Center for Mind/Body Health; Author, Be Happy Without Being Perfect

"Nancy Snyderman is a skillful surgeon who cuts through the medical myths and guides us to the truths that we can use! Everyone needs this book!"
—Susan Love, M.D., President and Medical Director Dr. Susan Love Research Foundation

"Truth #102: Medical information doesn't have to be indigestible. When Nancy L. Snyderman, M.D. is dispensing it, her straightforward approach to healthcare is just what the doctor ordered."
—Meredith Vieira, Co-host Today