The Gecko and Sticky: Sinister Substitute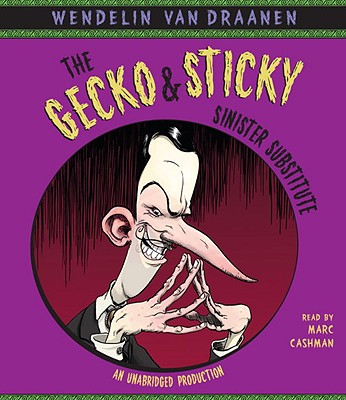 Description
---
Dave's most despised teacher, a gleeful frog dissector named Ms. Veronica Krockle, is absent. Her students are psyched But Sticky is suspicious. Especially when the substitute teacher turns out to be strangely interested in geckos. Or rather, boys with "pet "geckos.
That's no substitute That's Damien Black, dastardly treasure hunter and master of disguise
If Damien Black is in school, does that mean "he's "behind Ms. Krockle's absence? Could she have been kidnapped? And does that mean Dave has to rescue her? Ay chihuahua The capped crusader is (reluctantly) on the case.
"From the Hardcover edition.
About the Author
---
Wendelin Van Draanen has been everything from a forklift driver to a high school teacher but is now enjoying life as a full-time writer. She is the author of the Shredderman quartet, the Sammy Keyes mysteries, and many other novels. Wendelin lives with her husband and two sons in central California. Her hobbies include the "three R's" reading, running, and rock 'n' roll. "From the Audiobook Download edition."