Big Russ and Me: Father and Son: Lessons of Life (Large Print / Paperback)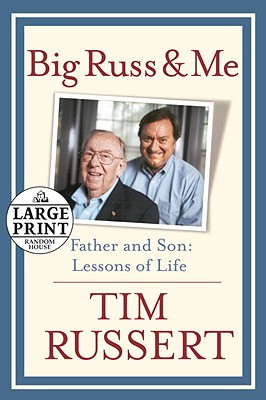 Description
---
Tim Russert is perhaps the most admired man in television news. As NBC's senior vice president and Washington bureau chief, he has helped shape the way today's news is reported and analyzed. As producer and moderator of
Meet the Press
, he has created and sustained the longest running TV news program of all time with panache and dedication. And as the anchor of
The Tim Russert Show
, he has garnered a huge and growing fan base with his quick wit and straight-talking candor. And every Tim Russert fan knows that Tim's #1 hero, hands down, is his dad--Big Russ.
BIG RUSS & ME offers a charming, down-to-earth look at Russert's roots, growing up a hometown guy in working-class Buffalo in the 1950s. From the indelible bond that links him to his father, to the lessons learned from his old-fashioned Catholic upbringing, from his passion for the Buffalo Bills, to the importance of patriotism in everyday life, Russert's reflections hit the very epicenter of American values.
Rich with personal anecdotes and Russert's easygoing style and straight-talking charm, BIG RUSS & ME will be embraced by his myriad fans--and will delight dads across the country on Father's Day and for years to come.
From the Hardcover edition.
About the Author
---
TIM RUSSERT is NBC-TV's senior vice-president and Washington Bureau Chief, the producer and moderator of Meet the Press, contributing political analyst for The Today Show, and host of his own weekly news program on MSNBC. He holds the Walter Cronkite Award for journalism and the American Legion Journalism Award. He lives in Washington, D.C. with his wife, writer Maureen Orth, and their son, Like, and was named "Dream Dad of the Year" by Parents magazine. From the Hardcover edition.
Praise For…
---
"What Tom Brokaw did for South Dakota, Russert will do for Buffalo. There's only one Tim Russert, and he's got a lot of clout. [This is] the Angela's Ashes of Buffalo."--The New York Post