Indignation (Large Print / Paperback)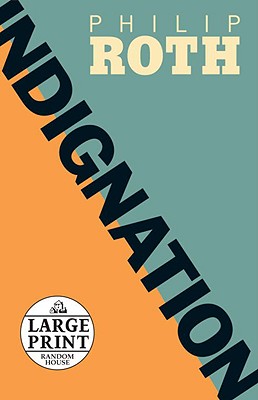 Description
---
It is 1951 in America, the second year of the Korean War. A studious, law-abiding, intense youngster from Newark, New Jersey, Marcus Messner, is beginning his sophomore year on the pastoral, conservative campus of Ohio's Winesburg College. And why is he there and not at the local college in Newark where he originally enrolled? Because his father, the sturdy, hard-working neighborhood butcher, seems to have gone mad--mad with fear and apprehension of the dangers of adult life, the dangers of the world, the dangers he sees in every corner for his beloved boy.
As the long-suffering, desperately harassed mother tells her son, the father's fear arises from love and pride. Perhaps, but it produces too much anger in Marcus for him to endure living with his parents any longer. He leaves them and, far from Newark, in the midwestern college, has to find his way amid the customs and constrictions of another American world.
"Indignation," Philip Roth's twenty-ninth book, is a story of inexperience, foolishness, intellectual resistance, sexual discovery, courage, and error. It is a story told with all the inventive energy and wit Roth has at his command, at once a startling departure from the haunted narratives of old age and experience in his recent books and a powerful addition to his investigations of the impact of American history on the life of the vulnerable individual.
About the Author
---
In 1997 Philip Roth won the Pulitzer Prize for "American Pastoral." In 1998 he received the National Medal of Arts at the White House and in 2002 the highest award of the American Academy of Arts and Letters, the Gold Medal in Fiction. He has twice won the National Book Award and the National Book Critics Circle Award. He has won the PEN/Faulkner Award three times. In 2005 "The Plot Against America" received the Society of American Historians' Prize for "the outstanding historical novel on an American theme for 2003-2004." Recently Roth received PEN's two most prestigious awards: in 2006 the PEN/Nabokov Award and in 2007 the PEN/Bellow Award for achievement in American fiction. Roth is the only living American novelist to have his work published in a comprehensive, definitive edition by the Library of America. In 2011 he received the National Humanities Medal at the White House, and was later named the fourth recipient of the Man Booker International Prize.
Praise For…
---
"In Indignation [Roth's] power and intensity seem undiminished . . . Of all Roth's recent novels, it ventures farthest into the unknowable.  In his unshowy way, with all his quotidian specificity and merciless skepticism, Roth is attempting to storm heaven–an endeavor all the more desperately daring because he seems dead certain it's not there."  –David Gates, The New York Times Book Review

"A triumph." –USA Today

"It is Roth's virtuoso skill to couple Marcus's companionable pleasure in part-time butchering with his nightmare that the knives he wields so dexterously will be used on himself." –The Boston Globe

"As always, the prose is well built–sinewy and graceful–and, as always, the wit is as sharp as a German knife. There are simply no novels by Roth in which you cannot detect the hand of a master." –O, The Oprah Magazine

"Terrific . . . there's a lovely perplexedness to the writing here." –GQ

"He is a master. And the short form serves the story: The shocking rush from this book comes from watching Roth expertly and quickly build up to a half-dozen final pages that absolutely deliver the kill."  –Entertainment Weekly

"The interplay between a life just begun and ended, impulse and reflection, college high jinks and eternity is what makes it resonate."  – People, 4 out of 4 stars
 
"Of how many writers can it be said that they're still producing some of their best work well into their 70s? With [Indignation], his 24th novel, Philip Roth proves beyond any dispute that he deserves to be counted in that select group." –BookPage

"Mr. Roth is a master magician who can make the same old rabbits do new tricks."  –The New York Sun      

"Mesmerizing . . . Philip Roth's intrepid novel of self-revelation demands to be read in one sitting. It's that good. It's that audacious. It's that compelling." –Seattle Times

"Roth, blending the bawdy exuberance of his early period and the disenchantment of his recent work, demonstrates with subtle mastery, the 'incomprehensible way one's most banal, incidental, even comical choices achieve the most disproportionate result'." –The New Yorker

"As sharply honed as one of those butcher-shop knives that haunt Marcus's dreams . . . Hard to forget." –Newsweek

"A magnificent display of writerly talent: a lean, powerful novel with bold characters who command attention, scenes of impressive dramatic interest and comic vitality, language that blasts the reader's cozy complacency . . . and a theme that swells imperceptibly from a murmur to a satisfying roar . . . Read Indignation–read it with a ear for the naked power of Philip Roth at full tilt."  –The New York Observer    

"Copies of Indignation, Philip Roth's ferocious little tale, ought to be handed out on college campuses along with condoms and tetanus shots . . . Here's a novel to be witnessed as an explosion from an author still angry enough to burn with adolescent rage and wise enough to understand how self-destructive that rage can be."  –Washington Post Book World

"Does anybody else writing prose today sustain a conversation with the reader as beautifully as Roth, with his whirlwind of shouts, whispers, riffs and exposition?. . . . Roth returns with 'Indignation' and Virtuosity." –Oscar Villalon, Books We Like, NPR

"Indignation is a glorious act of chutzpah on the part of arguably the most fearless American novelist working today." –Fort Worth Star-Telegram

"It's that final twist of the knife that makes the book so powerful, and leaves you feeling unstrung when you put it down." –Bloomberg News

"Roth balances the darkness with sharp, comic irony . . . In Indignation, Roth has reached back to Newark to breath new life into all the old obsessions." –Associated Press

"Written in elegant, economical prose. . . . intensely psychological. . . . utterly engrossing." –Times Literary Supplement (London)

"A late masterpiece. . . . Indignation is Philip Roth's best novel since The Counterlife . . . Intricately wrought, passionate and fascinating." –Financial Times (London)