Killer Heat (Large Print / Paperback, Large Print)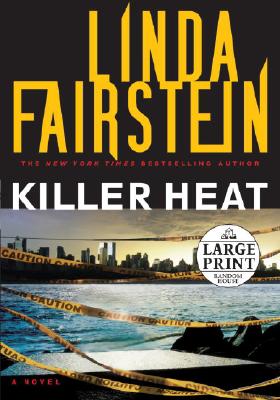 Description
---
It's August in New York, and the only thing that's hotter than the pavement is Manhattan D.A. Alex Cooper's professional and personal life. Just as she's claiming an especially gratifying victory in a rape case, she gets the call: the body of a young woman has been found in an abandoned building. The brutality of the murder is disturbing enough, but when a second body, beaten and disposed of in exactly same manner, is found off the Belt Parkway, the city's top brass want the killer found fast, before the tabloids can start churning out ghoulish serial killer headlines.

Between dodging the bullets of the gang members who are infuriated by Alex's most recent courtroom victory and keeping a rendezvous with a charming restaurateur, a serial killer on the loose is the last thing she needs on her plate right now. Then a third victim is found, and it becomes clear to Alex and her team that time is not on their side.

Through Alex's peerless interrogation skills—and one big break—the search becomes focused on someone who has a twisted obsession with the military, and things grow increasingly dangerous when the chase leads to a chain of small, abandoned islands around New York harbor.

Once again Linda Fairstein brilliantly orchestrates a page-turning mix of cutting-edge legal issues and forensics, New York City history, and spine-tingling suspense. And at the center of it all is Alex Cooper—stunning, single-minded, accomplished, and not to be trifled with whether she's in or out of a courtroom.
About the Author
---
Linda Fairstein, one of America's foremost legal experts on crimes of sexual assault and domestic violence, ran the Sex Crimes Unit of the District Attorney's Office in Manhattan for more than two decades. Her first novel, "Final Jeopardy," which introduced the character Alexandra Cooper, was published in 1996 to critical and commercial acclaim. Her nonfiction book, "Sexual Violence," was a "New York Times" notable book in 1994. She lives with her husband in New York and on Martha's Vineyard.
Praise For…
---
"One of the best crime writers in fiction today."

—Nelson DeMille

"Fairstein . . . makes the legal issues more exciting than any high-speed chase."
—New York Times