Hannah (Paperback)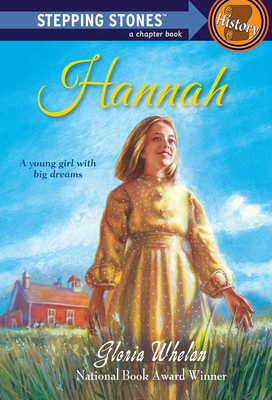 $4.99
Usually Ships in 1-5 Days
Description
---
Nine-year-old Hannah would do almost anything to go to school with all the other children in town. But Hannah is blind, and her parents keep her at home, where she is safe. Then Lydia Robbin, a strong-willed teacher, comes to town and convinces Hannah's parents to send her to school. At first Hannah is overjoyed. But she soon learns that there are many obstacles and people that stand in her way. Hannah will need tremendous courage to prove to her classmates, her parents, and herself that Miss Robbin was right to believe in her.
History Stepping Stones now feature updated content that emphasizes Common Core and today's renewed interest in nonfiction. Perfect for home, school, and library bookshelves
About the Author
---
Gloria and her husband Joseph moved from Detroit to the woods of northern Michigan several years ago. Many of Gloria's books take place during the summer -- because she does a lot of her writing during the northern Michigan blizzards! Gloria has been telling stories for as long as she can remember. Before she could read or write, she used to dictate stories to her baby-sitter, who would type them out. Being an only child, many of Gloria's stories were about having a brother or sister. Gloria would like to have written Little Women, because Jo March was one of her role models growing up! Gloria once had a set of five wtching guinea pigs, all named after Detroit Tiger baseball players! Leslie Bowman was born in New York City, grew up in Connecticut, and graduated from the Rhode Island School of Design. She has illustrated many children's books, including Balloons and Other Poems, Snow Company, and The Canada Geese Quilt, an ALA Notable Book.Leslie Bowman lives in Minnesota.
Praise For…
---
"A touching, believable story with strong characterizations and sense of place."-- The Horn Book
"Gloria Whelan offers a warm, believable picture of a blind child as she takes her first steps on the long road toward independence."-- The Braille Monitor
"Nine-year-old Hannah, living on a farm in 1887 Michigan, is referred to as 'poor Hannah' because she is blind. In this brief historical novel, Hannah tells of a turning point in her life when Miss Robbin, the new teacher, comes to board with them and eventually persuades the family to let Hannah attend school. A touching, believable story with strong characterizations and sense of place."--Horn Book.