Indian Vegetarian Cooking (Paperback)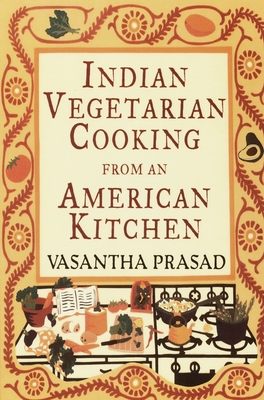 $19.00
Usually Ships in 1-5 Days
Description
---
Recipes include:
, Cucumber Pirogue
, Spicy Potato Soup
, Fruit Salad with Yogurt Cheese Dressing
, Sauteed Eggplant and Bell Pepper Curry
, Spinach with Homemade Cheese (Saag Paneer)
, Mixed Vegetable Korma (Navarathna Korma)
, Rice Pilaf with Cashews, Black Pepper,
and Coconut
, Vegetable Biryani
, Basic Toovar Dal
, Spicy Black-eyed Pea Curry
, Chapatis (Whole Wheat Flat Breads)
, Parathas (Whole Wheat Flaky
Griddle Breads)
, Aloo Parathas (Potato-stuffed Breads)
, Masala Dosa
, Rava Idli
, Minty Yogurt Drink
, Sweet Vermicelli Pudding
, Almond Milk Fudge.
About the Author
---
Vasantha Prasad was born in Bangalore, India, and developed a passion for vegetarian cooking in her late teens. Growing up in a country renowned for its exotic spices and wide variety of vegetables, not to mention age-old family culinary secrets, she learned to prepare healthful and tasty vegetarian delights. She came to the United States in 1972 and now lives in Mamaroneck, New York, with her family.