The Remains of the Day (Paperback)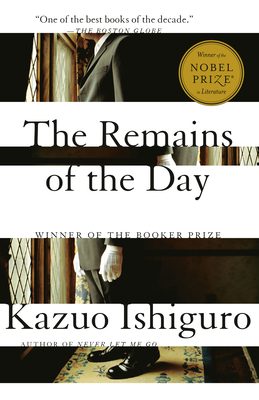 Staff Reviews
---
"This book manages to keep a fairly bright tone throughout
even though it deals with subjects such as unrequited love, family
death, and a very ugly class society that no one should ever want to
take part in.... I would recommend
this book to anybody who is interested in equality, human rights, or to
anybody looking for an emotionally satisfying read." ~ Lucas
Read his full review Between the Covers
— Our man Lucas, literary discoverer
Description
---
The Remains of the Day is a profoundly compelling portrait of the perfect English butler and of his fading, insular world postwar England. At the end of his three decades of service at Darlington Hall, Stevens embarks on a country drive, during which he looks back over his career to reassure himself that he has served humanity by serving "a great gentleman." But lurking in his memory are doubts about the true nature of Lord Darlington's "greatness" and graver doubts about his own faith in the man he served.
A tragic, spiritual portrait of a perfect English butler and his reaction to his fading insular world in post-war England. A wonderful, wonderful book.
About the Author
---
Kazuo Ishiguro was born in Nagasaki, Japan, in 1954 and moved to Britain at the age of five. He is the author of five novels, including The Remains of the Day, an international bestseller that won the Booker Prize and was adapted into an award-winning film. Ishiguro's work has been translated into twenty-eight languages. In 1995, he received an Order of the British Empire for service to literature, and in 1998 was named a Chevalier de l'Ordre des Arts et des Lettres by the French government. He lives in London with his wife and daughter.
Praise For…
---
"An intricate and dazzling novel." —The New York Times
 
"Brilliant and quietly devastating." —Newsweek
 
"A virtuoso performance ... put on with dazzling daring and aplomb." —The New York Review of Books
 
"A perfect novel. I couldn't put it down." —Ann Beattie
 
"The novel rests firmly on the narrative sophistication and flawless control of tone ... of a most impressive novelist." —Julian Barnes