The Romanovs: The Final Chapter (Hardcover)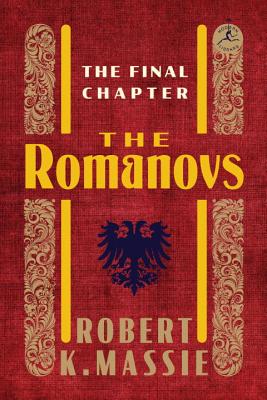 Description
---
From the Modern Library's new set of beautifully repackaged hardcover classics by Robert K. Massie--also available are Peter the Great and Nicholas and Alexandra
In July 1991, nine skeletons were exhumed from a shallow mass grave near Ekaterinburg, Siberia, a few miles from the infamous cellar room where the last tsar and his family had been murdered seventy-three years before. But were these the bones of the Romanovs? And if these were their remains, where were the bones of the two younger Romanovs supposedly murdered with the rest of the family? Was Anna Anderson, celebrated for more than sixty years in newspapers, books, and film, really Grand Duchess Anastasia?
The Romanovs
provides the answers, describing in suspenseful detail the dramatic efforts to discover the truth. Pulitzer Prize winner Robert K. Massie, the author of
Catherine the Great,
presents a colorful panorama of contemporary characters, illuminating the major scientific dispute between Russian experts and a team of Americans, whose findings, along with those of DNA scientists from Russia, America, and Great Britain, all contributed to solving one of the great mysteries of the twentieth century.
The Modern Library of the World's Best Books The Romanovs
"Riveting . . . unfolds like a detective story."--
Los Angeles Times Book Review
Peter the GreatWinner of the Pulitzer Prize
"Enthralling . . . as fascinating as any novel and more so than most."--
The New York Times Book Review
Nicholas and Alexandra
"A magnificent and intimate picture . . . Not only the main characters but a whole era become alive and comprehensible."--
Harper's
About the Author
---
Robert K. Massie was born in Lexington, Kentucky, and studied American history at Yale and European history at Oxford, which he attended as a Rhodes Scholar. He was president of the Authors Guild from 1987 to 1991. His books include Nicholas and Alexandra, Peter the Great: His Life and World (for which he won a Pulitzer Prize for biography), The Romanovs: The Final Chapter, Dreadnought: Britain, Germany, and the Coming of the Great War, Castles of Steel: Britain, Germany, and the Winning of the Great War at Sea, and Catherine the Great: Portrait of a Woman.
Praise For…
---
"Masterful."—The Washington Post Book World

"Riveting . . . unfolds like a detective story."—Los Angeles Times Book Review

"An admirable scientific thriller."—The New York Times Book Review
 
"Compelling . . . a fascinating account."—Chicago Tribune
 
"A masterpiece of investigative reporting."—San Francisco Examiner & Chronicle