Brazil (Hardcover)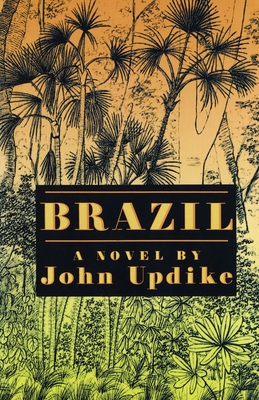 Description
---
They meet by chance on Copacabana Beach: Tristao Raposo, a poor black teen from the Rio slums, surviving day to day on street smarts and the hustle, and Isabel Leme, an upper-class white girl, treated like a pampered slave by her absent though very powerful father. Convinced that fate brought them together, betrayed by families who threaten to tear them apart, Tristao and Isabel flee to the farthest reaches of Brazil's wild west -- unaware of the astonishing destiny that awaits them . . .
Spanning twenty-two years, from the mid-sixties to the late eighties, BRAZIL surprises and embraces the reader with its celebration of passion, loyalty, and New World innocence.
-A tour de force . . . Spectacular.- -- Time
-Updike's novel, as tender as it is erotic, becomes a magnificently wrought love story . . . . Beautifully written.- -- Detroit Free Press
From the Paperback edition.
About the Author
---
John Updike was born in Shillington, Pennsylvania, in 1932. He graduated from Harvard College in 1954 and spent a year in Oxford, England, at the Ruskin School of Drawing and Fine Art. From 1955 to 1957 he was a member of the staff of The New Yorker. His novels have won the Pulitzer Prize, the National Book Award, the National Book Critics Circle Award, the Rosenthal Foundation Award, and the William Dean Howells Medal. In 2007 he received the Gold Medal for Fiction from the American Academy of Arts and Letters. John Updike died in January 2009.
Praise For…
---
"Steamy . . . breathtaking . . . In Updike's novel, our vast South American neighbor emerges as a country both ancient and new."—The New Yorker
 
"There is a wonderful drive to the novel, true lyricism, real drama. . . . Updike has rare insight into the psychology of sexual behavior and the mysterious, almost otherworldly devotedness Tristão and Isabel share."—Chicago Tribune
 
"The book [is] thrilling, not only by its own rights, as an action-driven narrative designed to thrill, but also as an instance of a contemporary master, one whom we thought we had figured out long ago, daring to reinvent himself before our jaded eyes."—The New Criterion