The Blue Nowhere (Mass Market Paperbound)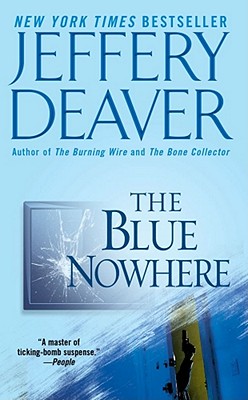 $7.99
Usually Ships in 1-5 Days
Description
---
His code name is Phate -- a sadistic computer hacker who infiltrates people's computers, invades their lives, and with chilling precision lures them to their deaths. To stop him, the authorities free imprisoned former hacker Wyatt Gillette to aid the investigation. Teamed with old-school homicide detective Frank Bishop, Gillette must combine their disparate talents to catch a brilliant and merciless killer.
Praise For…
---
San Francisco Chronicle


A gripping high-tech page turner.


USA Today


A terrific thriller.


People


High-tension wired.


Entertainment Weekly


The Blue Nowhere is that rare cyberthriller that doesn't make us want to log off in the middle.


San Francisco Chronicle


Deaver packs The Blue Nowhere with enough twists and surprises that even the most alert reader will be gulled by the numerous red herrings and narrative decoys....He has the language of technology down cold, but thankfully, never goes over the reader's head. Think of a technical manual with intrigue, fights, chases, and double-crosses. And there's no need to reboot.


Kirkus Reviews


Just when you thought it was safe to check your e-mail, psychokiller specialist Deaver shows just how malignant the human ghost in your machine can be.


The Boston Herald


Grounded in expert knowledge about how computers actually operate....You won't learn how to break into the Pentagon. But you will get a sense of the allure of cyberspace.


Publishers Weekly


How do you write a truly gripping thriller about people staring into computer screens? Many have tried, none have succeeded -- until now....As he twists suspense and tension to gigahertz levels, Deaver springs an astonishing number of surprises....His real triumph is to make the hacker world come alive in all its midnight, reality-cracking intensity. This novel is, in hacker lingo, "totally moby" -- the most exciting and most vivid fiction yet about the neverland hackers call 'The Blue Nowhere.'


The Times (London)


[A] taut tale.


The Deseret News (Salt Lake City)


[A] clever thriller....Neatly conceived and well written. The characters are well developed and believable....[Deaver] builds suspense upon suspense, including odd twists and turns.