Best Friends: The Pleasures and Perils of Girls' and Women's Friendships (Paperback)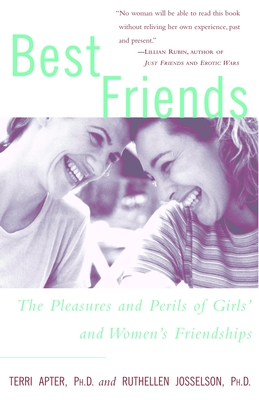 $19.00
Usually Ships in 1-5 Days
Description
---
Best Friends provides the missing link to understanding and recognizing the impact of some of the most important relationships in girls' and women's lives.
Every woman remembers the sting of betrayal of a girlfriend, and every parent of a daughter has seen her come home from school in tears because a girl she thought was her best friend suddenly and inexplicably became her enemy. While boys hash out differences with fists and kicks, girls' societies are marked by secrets and whispers and shifting affection. The lessons learned as an adolescent girl are often carried into adulthood, making women fear confrontation--especially with other women. But the intensity of the struggles reflects the support and healing to be found within these friendships. Girls find themselves in the mirror of other girls, hence the power each has to influence the other.
Ruthellen Josselson and Terri Apter's many years of working with hundreds of girls and women have given them insight into the emotionally important relationships that are integral to a girl's self-image. Best Friends explores the bonds of friendship between girls and between women and the sorrows and joys they experience together, from early adolescence and throughout their lives.
About the Author
---
Terri Apter, Ph.D., is a writer and researcher on girls' development and women's psychology. She received her Ph.D. from the University of Cambridge, where she is now a Fellow of Clare Hall. Her book Altered Loves: Mothers and Daughters During Adolescence became a New York Times Notable Book of the Year. She appears regularly on BBC radio as Radio Cambridgeshire's "resident psychologist.Terri is married and has two teenage daughters. Ruthellen Josselson, Ph.D., is a practicing psychotherapist who has been on the faculties of the Harvard Graduate School of Education, Towson University, the Hebrew University of Jerusalem, and the Fielding Institute. She has received the American Psychological Association Henry A. Murray Award and a Fulbright Fellowship. She is the author of several books, including Revising Herself: The Story of Women's Identity from College to Midlife. Ruthellen is married, and her daughter, Jaimie Baron, collaborated on Best Friends. From the Hardcover edition."
Praise For…
---
"[Apter and Josselson] argue in this breakthrough study, [that] the enormous formative impact of women's friendships outweighs most other influences--even that of parents. . . . Like its subjects, Best Friends is an illuminating experience."
--Book of the Month Club

"Both the joy and pain of friendship between adolescent girls and women are scrutinized in this interesting and accessible analysis."
--Publishers Weekly

"As Apter and Josselson trigger strong memories, they shed much-needed light on the profound influence young women have on each other."        
--Booklist

"This book should become the constant companion of girls and women as they grow and change."        
--Judith Michael, author of A Certain Smile

"Best Friends is a rich and engaging book that women from their teen years into adulthood will find revealing and helpful. The authors have found a deep truth in their descriptions of the lifelong emotional importance of friendship for girls and women."        
--Nancy J. Chodorow,         psychoanalyst and author of Femininities, Masculinities, Sexualities

"Best Friends is breathtaking in its promise of understanding what is compelling about female friendships."        
--Annie G. Rogers, associate professor, Harvard Graduate School of Education

"No woman will be able to read this book without reliving her own experience, past and present."
--Lillian Rubin, author of Just Friends and Erotic Wars