The Whole-Brain Child: 12 Revolutionary Strategies to Nurture Your Child's Developing Mind (Hardcover)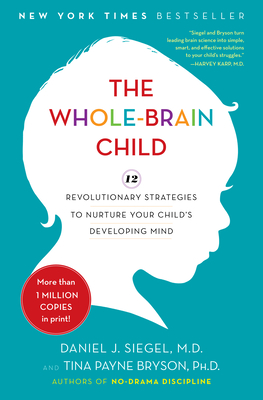 $25.00
Usually Ships in 1-5 Days
Description
---
NEW YORK TIMES BESTSELLER

Your toddler throws a tantrum in the middle of a store. Your preschooler refuses to get dressed. Your fifth-grader sulks on the bench instead of playing on the field. Do children conspire to make their parents' lives endlessly challenging? No--it's just their developing brain calling the shots
In this pioneering, practical book, Daniel J. Siegel, neuropsychiatrist and author of the bestselling
Mindsight
, and parenting expert Tina Payne Bryson demystify the meltdowns and aggravation, explaining the new science of how a child's brain is wired and how it matures. The "upstairs brain," which makes decisions and balances emotions, is under construction until the mid-twenties. And especially in young children, the right brain and its emotions tend to rule over the logic of the left brain. No wonder kids can seem--and feel--so out of control. By applying these discoveries to everyday parenting, you can turn any outburst, argument, or fear into a chance to integrate your child's brain and foster vital growth. Raise calmer, happier children using twelve key strategies, including -
Name It to Tame It:
Corral raging right-brain behavior through left-brain storytelling, appealing to the left brain's affinity for words and reasoning to calm emotional storms and bodily tension.
-
Engage, Don't Enrage:
Keep your child thinking and listening, instead of purely reacting.
-
Move It or Lose It:
Use physical activities to shift your child's emotional state.
-
Let the Clouds of Emotion Roll By:
Guide your children when they are stuck on a negative emotion, and help them understand that feelings come and go.
-
SIFT:
Help children pay attention to the Sensations, Images, Feelings, and Thoughts within them so that they can make better decisions and be more flexible.
-
Connect Through Conflict:
Use discord to encourage empathy and greater social success. Complete with clear explanations, age-appropriate strategies for dealing with day-to-day struggles, and illustrations that will help you explain these concepts to your child,
The Whole-Brain Child
shows you how to cultivate healthy emotional and intellectual development so that your children can lead balanced, meaningful, and connected lives.
About the Author
---
Daniel J. Siegel, M.D., is clinical professor of psychiatry at the UCLA School of Medicine, co-director of the UCLA Mindful Awareness Research Center, and executive director of the Mindsight Institute. A graduate of Harvard Medical School, he is the co-author of Parenting from the Inside Out and the author of Mindsight and the internationally acclaimed professional texts The Mindful Brain and The Developing Mind. Dr. Siegel keynotes conferences and presents workshops throughout the world. He lives in Los Angeles with his wife and two children. Tina Payne Bryson, Ph.D., is a pediatric and adolescent psychotherapist, parenting consultant, and the director of parenting education and development for the Mindsight Institute. A frequent lecturer to parents, educators, and professionals, she lives near Los Angeles with her husband and three children.
Praise For…
---
Advance praise for The Whole-Brain Child

"Siegel and Bryson reveal that an integrated brain with parts that cooperate in a coordinated and balanced manner creates a better understanding of self, stronger relationships, and success in school, among other benefits. With illustrations, charts, and even a handy 'Refrigerator Sheet,' the authors have made every effort to make brain science parent-friendly."—Publishers Weekly
 
"Daniel Siegel and Tina Payne Bryson have created a masterful, reader-friendly guide to helping children grow their emotional intelligence. This brilliant method transforms everyday interactions into valuable brain-shaping moments. Anyone who cares for children—or who loves a child—should read The Whole-Brain Child."—Daniel Goleman, author of Emotional Intelligence
 
"Fears? Fights? Frustrations? Help is here! Daniel Siegel and Tina Payne Bryson turn leading brain science into simple, smart—and effective—solutions to your child's struggles."—Harvey Karp, M.D., bestselling author of The Happiest Baby on the Block and The Happiest Toddler on the Block
 
"This erudite, tender, and funny book is filled with fresh ideas based on the latest neuroscience research. I urge all parents who want kind, happy, and emotionally healthy kids to read The Whole-Brain Child. I wish I had read it when my kids were young, but no one knew then what Siegel and Bryson share with us in an immensely practical way. This is my new baby gift."—Mary Pipher, Ph.D., author of Reviving Ophelia and The Shelter of Each Other
 
"The Whole-Brain Child is chock-full of strategies for raising happy, resilient children. It offers powerful tools for helping children develop the emotional intelligence they will need to be successful in the world. Parents will learn ways to feel more connected to their children and more satisfied in their role as a parent. Most of all, The Whole-Brain Child helps parents teach kids about how their brain actually works, giving even very young children the self-understanding that can lead them to make good choices and, ultimately, to lead meaningful and joyful lives."—Christine Carter, Ph.D., author of Raising Happiness
 
"In their dynamic and readable new book, Daniel Siegel and Tina Payne Bryson sweep aside the old models of 'good' and 'bad' parenting to offer a scientific focus: the impact of parenting on brain development. Parents will certainly recognize themselves in the lively 'aha' anecdotes that fill these pages. More important, they will see how everyday empathy and insight can help a child to integrate his or her experience and develop a more resilient brain."—Michael Thompson, Ph.D., co-author of the bestselling Raising Cain