Shalako & Catlow (Mass Market Paperbound)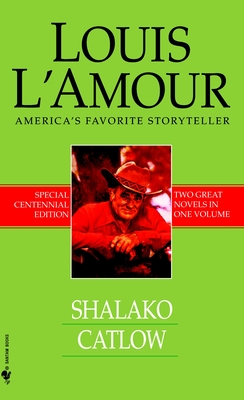 $5.99
Usually Ships in 1-5 Days
Description
---
Shalako
He was a white man as cunning as any Indian, a loner who trusted in nothing but his weapon and his horse. But then Shalako came across a European hunting party, and a brave and beautiful woman, stranded and defenseless in the Sonoran Desert--the Apaches' killing ground. Shalako knew he had to stay and help them survive. For somewhere out there a deadly Apache warrior had the worst kind of death in mind for them all.
Catlow
Ben Cowan and Bijah Catlow had been friends since they were boys. By the time they became men, Catlow was an outlaw and Cowan a U.S. marshal. So when his old friend rode to Mexico to pull the biggest robbery of his career, it became Ben's job to hunt him down. But south of the border, Ben meets beautiful Rosita Calderon, whose presence complicates an already dangerous situation. And soon Ben realizes that the price of getting Catlow home may be more than he's willing to pay.
About the Author
---
Louis L'Amour is undoubtedly the bestselling frontier novelist of all time. He is the only American-born author in history to receive both the Presidential Medal of Freedom, and the Congressional Gold Medal in honor of his life's work. He has published ninety novels; twenty-seven short-story collections; two works of nonfiction; a memoir, Education of a Wandering Man; and a volume of poetry, Smoke from This Altar. There are more than 300 million copies of his books in print worldwide.