The Coldest Mile (Mass Market Paperbound)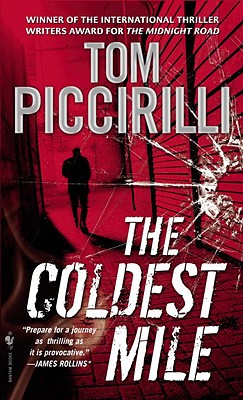 Description
---
Raised to be a thief and getaway driver, Chase left the bent life after he found his true love, Lila. For ten years he walked the straight and narrow--until Lila was murdered. Now Chase is looking for his grandfather Jonah, the stone-cold-killer con man who raised him anis the last living repository of his family's darkest secrets. In returning to his criminal roots, Chase hopes to save Jonah's infant daughter from the life that Chase himself can't escape.
But first he'll need a score. Chase thinks he's found it as a driver for a dysfunctional crime family that's anything but organized. With the Langans' patriarch dying, the once powerful syndicate may unravel before Chase can rip it off. If he survives the bloodbath to come, he'll face an even uglier showdown. Because his grandfather Jonah is waiting for him at the coldest family reunion this side of hell.
About the Author
---
Tom Piccirilli lives in Colorado, where, besides writing, he spends an inordinate amount of time watching trash cult films and reading Gold Medal classic noir and hardboiled novels. He's a fan of Asian cinema, especially horror movies, bullet ballet, pinky violence, and samurai flicks. He also likes walking his dogs around the neighborhood. Are you starting to get the hint that he doesn't have a particularly active social life? Well, to heck with you, buddy, yours isn't much better. Give him any static and he'll smack you in the mush, dig? Tom also enjoys making new friends. He is the author of twenty novels including The Cold Spot, The Midnight Road, The Dead Letters, Headstone City, November Mourns, and A Choir of Ill Children. He's a four-time winner of the Bram Stoker Award and a final nominee for the World Fantasy Award, the International Thriller Writers Award, and Le Grand Prix de L'Imaginaire.
Praise For…
---
"Prepare for a journey as thrilling as it is provocative." —James Rollins, author of The Judas Strain, on The Cold Spot

"Hard-boiled crime writing ... It's pedal to the metal for 352 pages. Don't miss it."—Booklist