Mommy Tracked (Paperback)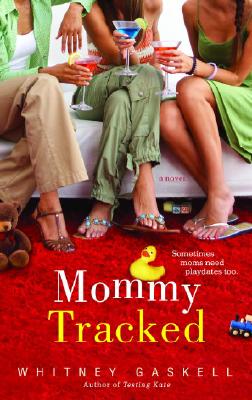 Description
---
Praised for her "smart, funny, sexy, and refreshingly real" novels, author Whitney Gaskell delivers a warm, witty, and wise new story of four women coping with the challenges of motherhood, men, and each other.
For Anna, Grace, Juliet, and Chloe, the idyllic town of Orange Cove, Florida, is home...but even in paradise, balancing the challenges of motherhood and life is never easy.
With a son in the throes of the Terrible Twos, divorced restaurant critic Anna has too much on her plate to reenter the frightening world of dating--no matter how expertly her new admirer wines and dines her....Grace has three beautiful daughters and the perfect husband, yet she's increasingly obsessed with one nagging flaw: her excess baby weight.... Ambitious Juliet is desperate to make partner at her law firm. Fortunately, her husband stays home with their twins. But at the office, Juliet is finding more than work to occupy her time....When newest mom Chloe gives birth, her husband seems indifferent to parenting their son. Chloe is so overwhelmed that she finds herself slipping into a nasty habit she thought she'd overcome....
Filled with humor, charm, and richly developed characters, Mommy Tracked illuminates four friends' intertwining lives--and their joys and mistakes along the way.
About the Author
---
Whitney Gaskell grew up in Syracuse, New York. A graduate of Tulane Law School, she worked for several years as a reluctant lawyer before writing her first novel, Pushing 30, followed by True Love (and Other Lies), She, Myself & I, and Testing Kate. She lives in Stuart, Florida, with her husband and son, and is at work on her next novel.
Praise For…
---
"Comfortable as fuzzy slippers and still as sharp as stilettos."—Publishers Weekly