The First Betrayal (Mass Market Paperbound)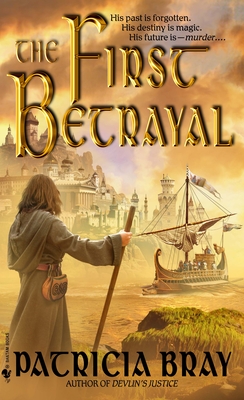 Description
---
Sometimes the magic inside us isn't meant to be discovered....
Orphan, exile, priest, Josan has been posted to a lighthouse on the farthest edge of the kingdom. As a member of the collegium, he once dreamed of making a real contribution to the Learned Brethren, but those dreams died after a mysterious fever shattered him, body and mind. At least that's the story he's been told to explain a past he can't remember. But that past has returned...with a vengeance.
When Lady Ysobel Flordelis is shipwrecked on Josan's island, this sets in motion an explosive destiny. The Seddonian trade liaison is traveling to Ikaria on official business, but her secret purpose is to revive the revolution brutally crushed years before. Neither Ysobel nor Josan can foresee the significance of their brief meeting. But as Ysobel navigates the elaborate court intrigues in Ikaria, Josan will be forced to leave his island exile and embark on a treacherous journey to unlock the secrets that bind his past-an act that could lead him to glory...or doom.
About the Author
---
Particia Bray inherited her love of books from her parents, both of whom were fine storytellers in the Irish tradition. She has always enjoyed spinning tales, and turned to writing as a chance to share her stories with a wider audience. Patricia holds a master's degree in Information Technology, and combines her writing witha a full-time career as an I/T Project Manager.