Into the Wilderness (Mass Market Paperback)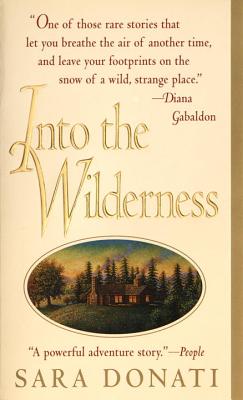 Description
---
Weaving a tapestry of fact and fiction, Sara Donati's epic novel sweeps us into another time and place...and into the heart of a forbidden affair between an unconventional Englishwoman and an American frontiersman.

It is December of 1792. Elizabeth Middleton leaves her comfortable English estate to join her family in a remote New York mountain village. It is a place unlike any she has ever experienced.  And she meets a man unlike any she has ever encountered--a white man dressed like a Native American, Nathaniel Bonner, known to the Mohawk people as Between-Two-Lives. Determined to provide schooling for all the children of the village, she soon finds herself locked in conflict with the local slave owners as well as her own family.

Interweaving the fate of the Mohawk Nation with the destiny of two lovers, Sara Donati's compelling novel creates a complex, profound, passionate portrait of an emerging America.
About the Author
---
Sara Donati is the pen name of Rosina Lippi. She lives with her husband, daughter, and various pets in an area between the Cascade Mountains and the Puget Sound.
Praise For…
---
"One of those rare stories that let you breathe the air of another time, and leave your footprints on the snow of a wild, strange place."—Diana Gabaldon

"A powerful adventure story."—People

"Each time you open a book, you hope to discover a story that will make your spirit of adventure and romance sing. This book delivers on that promise."—Amanda Quick

"Epic in scope, emotionally intense."—BookPage

"A beautiful tale of both romance and survival...Here is the beauty as well as the savagery of the wilderness and, at the core of it all, the compelling story of the love of a man and a woman, both for the untamed land and for one another."—llan W. Eckert

"The romance of the year when it comes to transcending genre boundaries and appealing to readers who love lush historical epics or thrilling backwoods adventures."—Booklist