Angel of Hope (Mass Market Paperbound)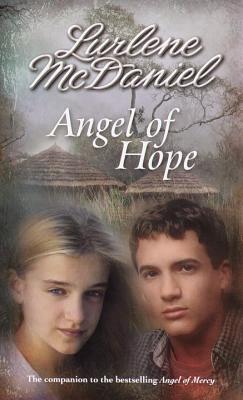 Description
---
When Heather Barlow returns from Africa, the joy she felt during her missionary trip fades.She's still suffering from unresolved grief over the death of her friend Ian, and now that she's back home in the United States, she feels directionless.And while Heather has changed a great deal, her family has not.She is discouraged to see that her sister, Amber, seems no more mature than when Heather left, her parents no less involved with a medical practice that caters to the wealthy.
Heather's sense of purpose is renewed when she persuades her mother to travel with her back to Uganda to try to save the baby she rescued on her mission trip.But when Heather becomes ill and cannot undertake the journey, Amber agrees to go in her place.Now Amber must emerge from her sister's shadow to grapple with the age-old question, "Am I my brother's keeper?
About the Author
---
Lurlene McDaniel began writing inspirational novels about teenagers facing life-altering situations when her son was diagnosed with juvenile diabetes. "I saw firsthand how chronic illness affects every aspect of a person's life," she has said. "I want kids to know that while people don't get to choose what life gives to them, they do get to choose how they respond."

Lurlene McDaniel's novels are hard-hitting and realistic, but also leave readers with inspiration and hope. Her books have received acclaim from readers, teachers, parents, and reviewers. Her recent novels Angels Watching Over Me and its companions, Lifted Up by Angels and Until Angels Close My Eyes, have all been national bestsellers, as have Don't Die, My Love; I'll Be Seeing You; and Till Death Do Us Part. Six Months to Live was included in a literary time capsule at the Library of Congress in Washington, D.C.

Lurlene McDaniel lives in Chattanooga, Tennessee.