Goodbye Days (Hardcover)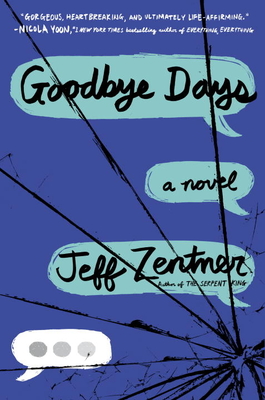 Staff Reviews
---
Four teens. Best friends. Three die in a car accident because the fourth texts them asking where they are, and the driver responds. With nothing and no one left, #4 sets out to live one last imaginary day with each of his friends, "goodbye days," while defending a possible murder charge. Grief, guilt, anxiety, loneliness, pain, accountability. But somehow, it's not a depressing book. There's redemption, hope, friendship, inspiration, appreciation, closure. No words will describe how incredible this book is. Zentner is lyrical, thoughtful, insightful; yet edgy: a true master of his craft. A cool book for teens, adults will appreciate and admire it, and it's perfect to discuss in book groups. 
— Kristen Gilligan, Co-owner, Tattered Cover
Goodbye Days portrays a nearly perfect balance between mystery and tragedy, with the main character Carver learning to move on from the loss of his close friends while also avoiding the families of his friends after his text costs them their lives in fear of their own form of revenge.
— Emily B., Tattered Cover Teen Advisory Board member
Description
---
"Gorgeous, heartbreaking, and ultimately life-affirming." --Nicola Yoon, #1 New York Times bestselling author of Everything, Everything. Perfect for fans of Thirteen Reasons Why, Looking for Alaska, and Zentner's own The Serpent King, one of the most highly acclaimed YA novels of 2016, Goodbye Days asks what you would do if you could spend one last day with someone you lost.

Where are you guys? Text me back. That's the last message Carver Briggs will ever send his three best friends, Mars, Eli, and Blake. He never thought that it would lead to their death. Now Carver can't stop blaming himself for the accident and even worse, a powerful judge is pressuring the district attorney to open up a criminal investigation. Luckily, Carver has some unexpected allies: Eli's girlfriend, the only person to stand by him at school; Dr. Mendez, his new therapist; and Blake's grandmother, who asks Carver to spend a "goodbye day" together to share their memories and say a proper farewell. Soon the other families are asking for their own goodbye day with Carver--but he's unsure of their motives. Will they all be able to make peace with their losses, or will these goodbye days bring Carver one step closer to a complete breakdown or--even worse--prison? "Jeff Zentner, you perfectly fill the John-Green-sized hole in our heart." --Justine Magazine "Evocative, heartbreaking, and beautifully written." --Buzzfeed "Masterful." --TeenVogue.com "Hold on to your heart: this book will wreck you, fix you, and most definitely change you." --Becky Albertalli, Morris Award-winning author of Simon vs. the Homo Sapiens Agenda
About the Author
---
Jeff Zentner is the acclaimed author of The Serpent King. In addition to writing, he is also a singer-songwriter and guitarist who has recorded with Iggy Pop, Nick Cave, and Debbie Harry. Goodbye Days is his love letter to the city of Nashville and the talented people who populate it. He lives in Nashville with his wife and son. You can follow him on Facebook, on Instagram, and on Twitter at @jeffzentner.