Husbandry: Sex, Love & Dirty Laundry: Inside the Minds of Married Men (Paperback)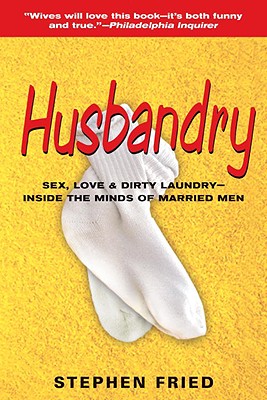 Description
---
At last, one husband reveals the answers
to some of mankind's greatest mysteries. Why do men hog the remote? Refuse to stop and ask for directions? Have such a hard time sharing their emotions? Why can't they drop their socks in the laundry basket instead of near it? What does a man mean when he says "uh-huh"? (No, it doesn't always mean he's not listening.)

In this wickedly observant collection of essays, Stephen Fried, widely praised as an investigative journalist, turns his attention to the subject of marriage--his own and others. The result is a daring, provocative, often hilarious read that throws incisive light on mysteries that have long plagued womankind: the inner workings of the male mind. Originally published as a series of popular columns in Ladies' Home Journal--and now compiled in one volume at the request of his enthusiastic readers--Fried's pitch-perfect essays fearlessly tackle the realities of love, sex, and marriage with both wit and tenderness. Drawing from candid conversations with fellow husbands as well as with his own wife, Husbandry will surprise, disarm, entertain--and tell you more about the man in your life than you could ever learn by asking him.
About the Author
---
Stephen Fried is an award-winning journalist and bestselling author, and an adjunct professor at Columbia University Graduate School of Journalism. He is the author of Thing of Beauty: The Tragedy of Supermodel Gia (the inspiration for the Emmy-winning film Gia), Appetite for America: Fred Harvey and the Business of Civilizing the Wild West--One Meal at a Time (a New York Times bestseller featured in the PBS documentary The Harvey Girls: Opportunity Bound), Bitter Pills: Inside the Hazardous World of Legal Drugs, The New Rabbi, and the essay collection Husbandry. He is also co-author, with Congressman Patrick J. Kennedy, of A Common Struggle: A Personal Journey through the Past and Future of Mental Illness and Addiction. A two-time winner of the National Magazine Award, Fried has written frequently for Vanity Fair, GQ, The Washington Post Magazine, Rolling Stone, Glamour, and Philadelphia magazine. He lives in Philadelphia with his wife, author Diane Ayres. From the Hardcover edition.
Praise For…
---
"Fried is insightful as well as funny."—Publishers Weekly



"A great read—it's funny and touching and enlightening. It touches on…all of the stuff women are dying to know about men."—Dallas Observer