No More Letting Go: The Spirituality of Taking Action Against Alcoholism and Drug Addiction (Paperback)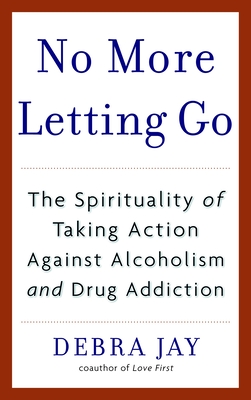 $16.00
Usually Ships in 1-5 Days
Description
---
"Detachment" has been the standard message of most addiction literature for the last twenty years. The conventional wisdom offered to an addict's loved ones has been to let the addict "hit bottom" before intervening. Now intervention specialist Debra Jay challenges this belief and offers a bold new approach to treating addiction that provides a practical and spiritual lifeline to families struggling with alcohol or drug abuse. In No More Letting Go, Jay argues that the traditional advice of "letting go" too often destroys both the addict and the family physically, emotionally, and spiritually. Jay contends that addiction is everybody's business-not just the addict's-and addiction doesn't have the right to trump the welfare of a family. In short, highly accessible chapters written with warmth, understanding, and compassion, Jay weaves together philosophical and religious thought; new science on the brain function of an addict; the physical and psychological impact of addiction on family members; and poignant, real-life family stories.

No More Letting Go is a powerful, informative guide that provides comfort, hope, and practical advice to anyone affected by a family member's addiction.
About the Author
---
DEBRA JAY is the co-author of the Hazelden Guidebooks, Love First: A New Approach to Intervention, and Aging and Addiction. A graduate of the Hazelden Addiction Professional Training Program, she currently provides private intervention consultation to families throughout the United States and Canada. Debra appears regularly on Oprah, has been featured in Prevention Magazine and More Magazine, and is a national speaker and workshop leader. She resides in Grosse Pointe, Michigan, with her husband, Jeff Jay, where she writes a regular advice column for The Grosse Pointe News.