Nim Chimpsky: The Chimp Who Would Be Human (Paperback)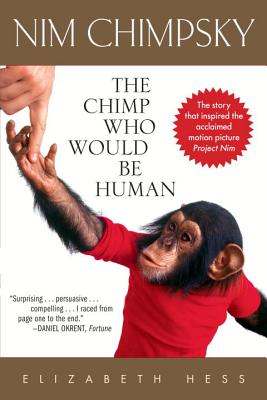 $16.00
Usually Ships in 1-5 Days
Description
---
NEW YORK TIMES BESTSELLER
Now Elizabeth Hess's unforgettable biography is the inspiration for
Project Nim,
a riveting new documentary directed by James Marsh and produced by Simon Chinn, the Oscar-winning team known for
Man on Wire
. Hess, a consultant on the film, says, "Getting a call from James Marsh and Simon Chinn is an author's dream.
Project Nim
is nothing short of amazing." An adorable baby chimp, a loving family, and an experiment that changed the lives of all it touched . . . Project Nim, the brainchild of a Columbia University psychologist, was designed to refute Noam Chomsky's claim that language is an exclusively human trait. Nim Chimpsky, the chimpanzee chosen to realize this potentially groundbreaking experiment, was raised like a human child and taught American Sign Language while living with his "adoptive family" in their elegant Manhattan town house. But when funding for the study ended, Nim's problems began. Over the next two decades he was exiled from the people he loved, put in a cage, and moved from one facility to another, including, most ominously, a medical research lab. But wherever he went, Nim's humanlike qualities and his ability to communicate with humans saved him. A creature of extraordinary charm and charisma, Nim ultimately triumphed over a dramatic series of reversals and obstacles. His story, both moving and entertaining, also raises the most profound questions of what it means to be human--and about what we owe to the animals who enrich our lives.
About the Author
---
Elizabeth Hess is a journalist who continues to write about animals. Her articles have appeared in the Village Voice, New York magazine, the New York Observer, the London Telegraph, the Bark, Art in America, Art News, Artforum and many other publications. She is the winner of a Genesis Award (1998) for an investigative article on New York City's animal control program, which appeared in New York magazine. Along with Nim Chimpsky, her books on animals include Lost and Found: Dogs, Cats and Everyday Heroes at a Country Animal Shelter. Hess is currently writing a social history of the American Pit Bull Terrier.
Praise For…
---
"Nim Chimpsky is a very important story that should go a long way toward reducing the likelihood of our betraying the trust of animals who depend on us for their well-being. Laugh, cry, and share widely."—Marc Bekoff, University of Colorado; author of The Emotional Lives of Animals and Animals Matter; editor of the Encyclopedia of Human-Animal Relationships

"If you read only one book about the strange, fruitful, and fraught relationship between humans and animals, let this be it."—Dale Peterson, author of Jane Goodall, The Woman Who Redefined Man

"Nim Chimpsky is an indictment of our attitudes to our closest relatives."—Peter Singer, Ira W. DeCamp Professor of Bioethics, Princeton University and author of In Defense of Animals: The Second Wave. and The Way We Eat: Why Our Food Choices Matter

"An absolutely absorbing page-turner by a writer of such boundless empathy that she could tell an animal's story and make it, yes—deeply human."—Barbara Ehrenreich, author of Nickled and Dimed

"I stayed up all night reading this book and could not put it down. I became totally convinced that Nim understood sign language when he banged on a closed door and signed 'hurry open now."—Temple Grandin, author of Animals in Translation

"A smart, tough-minded, big-hearted meditation on the fate of our nearest relatives, and a marvelous biography as well. The story of Nim Chimpsky tells us more about our own species than we probably want to hear, but we need to hear it, now."—Russell Banks, author of Darling

"An unforgettable biography of an extraordinary animal. Nim's voice is on every page of this book. You will remember him long after the book has ended, and what he has taught you will change, forever, the way you look at animals."—Ruth Reichl, author of Garlic and Sapphires: The Secret Life of a Critic

"Hess's clear, lively, and gently sorrowful biography swings from Nim's 26-year life story … to a larger portrait of the human researchers, philosphers, and caretakers who upended Nim's life."—Entertainment Weekly

"Elizabeth Hess' splendid account … amounts to a biography of Nim, a story every bit as stirring and elaborate as that of a famous person."—Seattle Times

"As poignant an animal story as you can get…. Nim was an unforgettable character—affectionate, mischievous, empathetic, and utterly charming."—Christian Science Monitor