Instant Relief: Tell Me Where It Hurts and I'll Tell You What to Do (Paperback)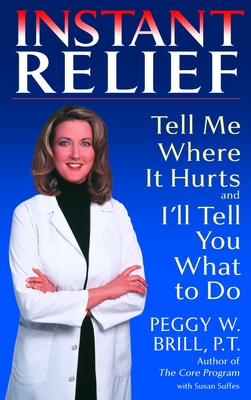 $16.95
Usually Ships in 1-5 Days
Description
---
A renowned physical therapist helps you get rid of your pain in just 10 seconds.
In this one-of-a-kind book, Peggy Brill, acclaimed author of The Core Program, shows you how to find relief from chronic and everyday aches and pains as well as all those stress-related pains that can attack so suddenly whether you re at work, in a car or a plane, at home with your kids, recovering from surgery, or relaxing in bed. Instant Relief provides 100 clearly illustrated, easy-to-do 10-second exercises that provide immediate therapy for every part of your body from your head to your toes.
Does your upper body ache after hours of hunching over a report due by the end of the day?
Try doing the Brill Chicken. For extra relief, there's the Dead Brill Chicken.
Desperate to get rid of that tension headache?
Try the Tongue Press, the Ear Tug, the Cheek Release, or the Scalp Glide.
Is your lower back killing you?
Do the Pelvic Rock or the Pelvic Clock.
Feel those calves cramping up again? Do the Ankle Pump.
Need something to relieve your aching feet?
Try the Foot Dome, the Toe Lift, or a simple self-massage.
Does your knee hurt when you walk downstairs?
Do the Squeeze and Step.
About the Author
---
Peggy Wachterhauser Brill, P.T, . is a board-certified clinical specialist in orthopedic physical therapy. Her private practice, Brill Physical Therapy, is in midtown Manhattan, and she also maintains offices in the corporate headquarters of Morgan Stanley and Credit Suisse First Boston. Her expertise is sought after by the Duke University men s basketball team, top executives all over the world, and leading physicians at the Hospital for Special Surgery and several other major medical centers. The author of The Core Program: 15 Minutes a Day That Can Change Your Life, Peggy lives in New York City with her husband and two daughters. Susan Suffes is a writer and editor who lives in New York City."