Soul Music (Mass Market Paperback)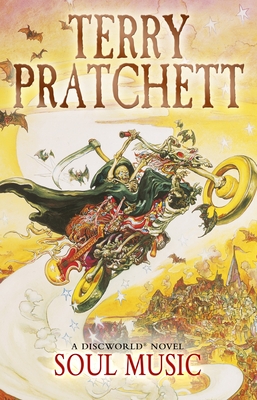 Description
---
OTHER CHILDREN GET GIVEN XYLOPHONES, SUSAN JUST HAD TO ASK HER GRANDFATHER TO TAKE HIS VEST OFF.
Yes. There's a Death in the family.
It's hard to grow up normally when Grandfather rides a white horse and wields a scythe--especially when you have to take over the family business, and everyone mistakes you for the Tooth Fairy.
And especially when you have to face the new and addictive music that has entered Discworld. It's lawless. It changes people. It's called MUSIC WITH ROCKS IN. It's got a beat and you can dance to it but...It's ALIVE. And it won't fade away.
About the Author
---
TERRY PRATCHETT is one of the most popular authors writing today. He lives behind a keyboard in Wiltshire and says he 'doesn't want to get a life, because it feels as though he's trying to lead three already'. He was appointed OBE in 1998. He is the author of the phenomenally successful Discworld series and his trilogy for young readers, The Bromeliad, is scheduled to be adapted into a spectacular animated movie. His first Discworld novel for children, The Amazing Maurice and His Educated Rodents, was awarded the 2001 Carnegie Medal.