Sourcery (Mass Market Paperback)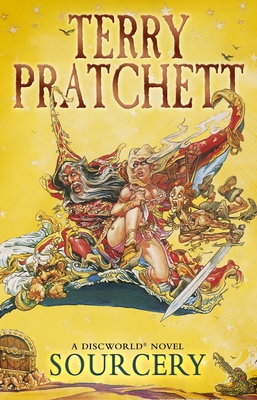 Description
---
There was an eighth son of an eighth son. He was, quite naturally, a wizard. And there it should have ended. However (for reasons we'd better not go into), he had seven sons. And then he had an eighth son...a wizard squared...a source of magic...a Sourcerer.
SOURCERY SEES THE RETURN OF RINCEWIND AND THE LUGGAGE AS THE DISCWORLD FACES ITS GREATEST-AND FUNNIEST-CHALLENGE YET.
About the Author
---
TERRY PRATCHETT is the acclaimed creator of the global bestselling Discworld series, the first of which, The Colour of Magic, was published in 1983. In all, he is the author of fifty bestselling books. His novels have been widely adapted for stage and screen and he is the winner of multiple prizes, including the Carnegie Medal, as well as being awarded a knighthood for services to literature. Worldwide sales of his books now stand at 70 million, and they have been translated into thirty-seven languages.
Praise For…
---
 • "Like Jonathan Swift, Pratchett uses his other world to hold up a distorting mirror to our own, and like Swift he is a satirist of enormous talent... incredibly funny... compulsively readable." --The Times

 • "His spectacular inventiveness makes the Discworld series one of the perennial joys of modern fiction." --Mail on Sunday

 • "May well be considered his masterpiece... Humour such as his is an endangered species." --The Times