Finding Zasha (Hardcover)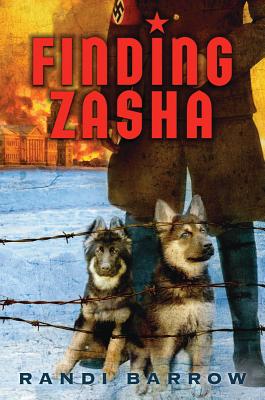 Description
---
Randi Barrow is back with another gripping heroic World War II story about a boy and his best friend, a German shepherd!

In 1941, the Germans began the long, bloody siege on Leningrad. During the chaos, twelve-year-old Ivan is sent to live with relatives when his mother's job is moved to the mountains. But it is a long and dangerous journey to get out of Leningrad. After settling into a new town it falls under Nazi occupation and Ivan is picked by Axel Recht, an especially heinous soldier, to come work for the Nazis. One of Ivan's more pleasant tasks is to train Alex's dogs. Yet Ivan is determined to use his position to undermine the Nazis and rescue the dogs. But Ivan underestimates Axel's attachment to Zasha and Thor, and soon finds himself being hunted by a ruthless soldier who will stop at nothing to get his dogs back. As World War II rages around them, Ivan must find a way to hide from Axel, protect Zasha and Thor, avoid the constant barrage of deadly bombings, and survive in the devastating conditions of a city cut off from the world.
About the Author
---
Randi Barrow is an attorney and amateur historian, who has also published adult nonfiction. When dogs entered her life a dozen years ago, the effect was profound. SAVING ZASHA, her first children s book, was inspired and informed by her canine friends. Now a full-time writer, she lives in Los Angeles with her husband, musician/composer Arthur Barrow, and their Chihuahua mix companion, Manuel."
Praise For…
---
Praise for SAVING ZASHA

"Barrow's novel is quick reading yet weighty, and captures the prejudices and aftereffects of war." PUBLISHERS WEEKLY

"Mikhail's first person account will grab readers with the physical details of training and protecting his beloved pet as well as the history of the devastating war and its aftermath." BOOKLIST

"A highly engaging and ultimately hopeful animal story with a strong sense of time and place." KIRKUS

"[T]his story captures the love of a boy for his dog and reflects the dark effects of war on both humans and animals..." SCHOOL LIBRARY JOURNAL