The Brooklyn Reader: 30 Writers Celebrate America's Favorite Borough (Paperback)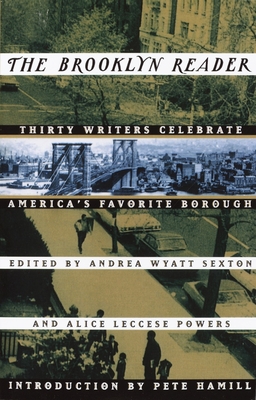 $19.00
Usually Ships in 1-5 Days
Description
---
There is no other place quite like Brooklyn. Not only has it inspired and nurtured many native writers, it has had a profound impact on those passing through. The Brooklyn Reader features a rich diversity of writings -- short stories, poetry, essays, novels, biographies, and plays -- that offer thirty writers' unique and colorful experiences of New York City's biggest borough. Ranging from warm, nostalgic memories of childhood to humorous tales of new arrivals adjusting to the American way, or just stories of life's unplanned adventures, this reading tour is a true delight. Contributors include:

Anatole Broyard

Cristina Garcia

Henry Miller

Betty Smith

Derek Walcott

Truman Capote

Spike Lee

Isaac Bashevis Singer

William Styron

Walt Whitman
Praise For…
---
"Lively, affectionate, moving pieces by the natives and transplants who have made Brooklyn one of America's great literary landscapes." -- Tallahassee Democrat

"Intelligently conceived and intelligently executed ... a portrait of the borough as it might have been edited for William Shawn's New Yorker." -- Boston Sunday Globe

"There's plenty of gems ... one of the best is Capote's evocation of the Heights and those first sentences: 'I live in Brooklyn. By choice.' " -- New York

"Testaments to the mythic place Brooklyn was, and in many ways continues to be."--New YorkDaily News.