Latino U.S.A.: A Cartoon History (Paperback)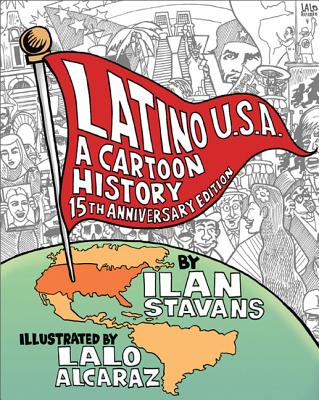 $22.99
Usually Ships in 1-5 Days
Description
---
Latino USA
represents the culmination of Ilan Stavans lifelong determination to meet the challenges of capturing the joys, nuances, and multiple dimensions of Latino culture within the context of the English language. In this cartoon history of Latinos, Stavans also seeks to combine the solemnity of so-called serious literature and history with the inherently theatrical and humorous nature of the comics.
Stavans represents Hispanic civilization as a fiesta of types, archetypes, and stereotypes. These multiple, at times contradictory voices, each narrating various episodes of Latino history from a unique perspective, combine to create a carnivalesque rhythm, which is democratic and impartial. Latino USA, like the history it so entertainingly relates, is a dazzling kaleidoscope of irreverence, wit, subversion, anarchy, politics, humanism, celebration, and serious and responsible history.
About the Author
---
Ilan Stavans is a Mexican-born essayist and cultural critic and the author of over 20 books. Since 1993 he has been on the faculty at Amherst College, Massachusetts, where he is the Lewis-Sebring Professor in Latin American and Latino Culture. He has also taught a various other institutions, including Columbia University. In 1997, Stavans was awarded a Guggenheim Fellowship and has been the recipient of international prizes and honors, including the Latino Literature Prize, Chile s Presidential Medal, and the Ruben Dario Distinction. He lives in Amherst, Massachusetts."