No Silent Night: The Christmas Battle for Bastogne (Paperback)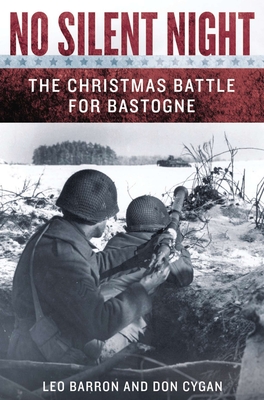 $16.00
Usually Ships in 1-5 Days
Description
---
On Christmas morning, 1944, there was little reason to celebrate....
As the Battle of the Bulge raged, a small force of American solders--including the famed 101st Airborne division, tank destroyer crews, engineers, and artillerymen--was completely surrounded by Hitler's armies in the Belgian town of Bastogne. Taking the town was imperative to Hitler's desperate plan to drive back the Allies and turn the tide of the war. The attack would come just before dawn.
As the outnumbered, undersupplied Americans gathered in church for services or shivered in their snow-covered foxholes on the fringes of the front lines, freshly reinforced German forces of men and tanks attacked. The battle was up close and personal, with the cold, exhausted soldiers of both armies fighting for every square foot of frozen earth.
In the end, the Allied forces would hold the town of Bastogne, with the hard-won victory boosting morale and sounding the death-knell for Hitler's Third Reich. After this battle, the Nazis would never go on the offensive again.
Featuring interviews with the soldiers who were there, as well as never-before-seen or translated documents, No Silent Night is a compelling chronicle of one day that changed the course of the war--and the world.
INCLUDES NEVER-BEFORE-SEEN PHOTOS AND MAPS.
About the Author
---
Leo Barron works for General Dynamics as an instructor of military intelligence officers for the U.S. Army. He holds undergraduate and graduate degrees in history and has served with the 101st Airborne. Barron has seen two tours of active duty in Iraq as an infantry and intelligence officer. His articles about Bastogne and other WWII-related military topics have appeared in Infantry Magazine, Military Intelligence Professional Bulletin, WWII History Magazine, and WWII Magazine. He has used some of his research on Bastogne and the Christmas battle to teach his students about intelligence preparation of the battlefield. Don Cygan has studied military history for decades. Cygan has also worked as a reporter for the Douglas County Daily News-Press. In addition, he has worked as a freelance writer for several years in Colorado, with articles published in The Parker Chronicle, the Denver Business Journal, and other publications. During Operation Desert storm, Cygan performed public relations for the U.S. Army. His degrees are in journalism and communication.
Praise For…
---
"Leo Barron and Don Cygan have shed new light on the crucial siege of Bastogne during the Battle of the Bulge. No Silent Night is the product of in depth research and a strong commitment to historical accuracy. Whether you are new to the topic or a confirmed expert, you will learn much from this book."—John C. McManus, author of Alamo in the Ardennes: The Untold Story of the American Soldiers who made the Defense of Bastogne Possible and September Hope: The American Side of a Bridge Too Far

"Bastogne has always figured large in any account of the Battle of the Bulge. In No Silent Night, Leo Barron and Don Cygan provide new insight into the climatic battle that raged for that small Ardennes market town on Christmas Day, 1944. New sources, interviews and thorough documentation grace this book, which will be a boon for those seeking to understand how Americans prevailed in one of their most famous World War II victories."—Danny S. Parker, author of Fatal Crossroads