Dave Barry Is Not Making This Up (Paperback)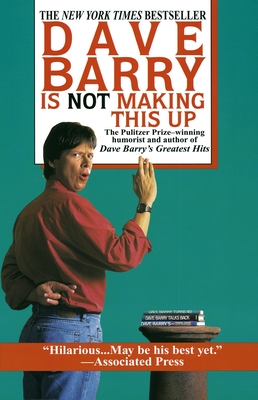 $16.00
Usually Ships in 1-5 Days
Description
---
THE NEW YORK TIMES BESTSELLER
YOU CAN'T MAKE THIS STUFF UP
Dave Barry wouldn't lie--and here are the real life, laugh-out-loud stories from across America to prove it: a U.S. Supreme Court justice shares his remedy for preventing gas ("I had not realized that this was a matter of concern in the highest levels of government"); a newspaper headline in Ohio announces the combustibility of strawberry Pop-Tarts ("A story that can really help you gain a better understanding of how you can be killed by breakfast snack food"); a frightening fact that snakes have mastered the pipelines leading directly to your toilet--and they're not shy ("Many women might view this as a fair punishment for all the billions of times that guys have left the seat up").
Get up-close with Dave as he examines UFO thrillseekers and Elvis- worshippers, plays lead guitar with a horrifying rock band that includes Stephen King, and swears to tell the truth, the whole truth, and nothing but the truth...so God help you
"BARRY IS AT HIS BEST."
--The Baltimore Sun
"HE ZAPS THE FUNNY BONE."
--The Cincinnati Post.
About the Author
---
Dave Barry is a Pulitzer Prize-winning journalist for the Miami Herald. He is the author of numerous bestsellers, including Dave Barry Turns 50 and the novel, Big Trouble. He lives in Miami, Florida. From the Paperback edition.
Praise For…
---
"HILARIOUS . . . MIGHT BE HIS BEST YET."
--Associated Press

"BARRY AT HIS BEST."
--The Baltimore Sun

"HE ZAPS THE FUNNY BONE."
--The Cincinnati Post


From the Paperback edition.