Executive Orders (Abridged / Compact Disc)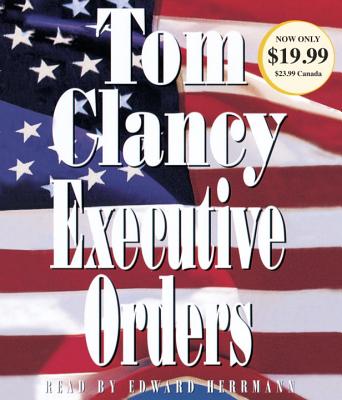 Description
---
Debt of Honor ends as Jack Ryan is confirmed vice president minutes before a mammoth act of terrorism kills the President, most of his cabinet, all but a few members of Congress, the entire Supreme Court and all of the Joint Chiefs of Staff. Suddenly Ryan is President, which is where Executive Orders begins.
Ryan's responsibilities crush in on him. Where should he begin? He must calm a nation, pacify world leaders, arrange a massive funeral -- while he rebuilds a government as quickly as possible. But that's not all. Enemies abroad and at home see opportunities, and they'll soon present President Ryan with an unimaginable crisis. How will he tackle his greatest challenge ever?
About the Author
---
Tom Clancy was an English major at Baltimore's Loyola College and he had a dream of writing a novel. As a Maryland insurance broker with a passion for naval history, his dream came true with his first effort, The Hunt for Red October. He has since written more than a dozen novels, which have a blend of realism and authenticity, intricate plotting, and razor-sharp suspense. Ten of the novels, including The Teeth of the Tiger feature the character Jack Ryan, former stock broker and CIA employee. Mr. Clancy's nonfiction works include a series of guided tours of America's warfighting assets, Submarine, Armored Cav, Fighter Wing, Marine, and Airborne. He lives in Maryland.