Will Sparrow's Road (Compact Disc)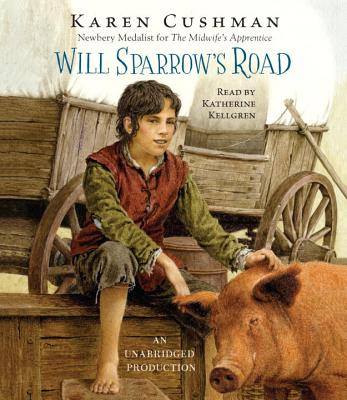 November 2012 Indie Next List
---
"Once again Newbery medalist Cushman takes us back to Elizabethan England, this time to 1599, when Will Sparrow has been traded by his father to an innkeeper in exchange for ale. After stealing some food from the innkeeper, Will fears that he will be sold again, so he runs away. Life on the run is filled with adventure, danger, and hunger. Will becomes attached to an Elizabethan fair troupe with an unusual cast, including a hairy girl, a juggler, and a pig. An intriguing story for middle readers who will find this tale a fun medieval romp."
— Shirley Mullin, Kids Ink, Indianapolis, IN
Description
---
Will Sparrow, liar and thief, is running away from the father who sold him for beer, from the innkeeper who threatened to sell him as a chimney sweep, from his whole sorry life. Barefoot and penniless, without family, friends, or boots, Will is determined to avoid capture and, of course, to find something to eat.
Some of the travelers he meets on the road have a kind word for him and a promise of better things to come, such as coins and juicy beef ribs. Eager to go along, Will repeatedly finds himself tricked by older and wiser tricksters. Each time, he resolves afresh to trust no one and care for no one. But luckily for Will, he can t keep his guard
up forever.
The lively goings-on behind the scenes of Elizabethan market fairs provide a colorful, earthy backdrop for Karen Cushman's wise and funny story of a runaway who finally, and unexpectedly, stops running.
About the Author
---
Karen Cushman was born in Chicago and grew up there and in Southern California. Before she started writing full-time, she was assistant director and adjunct professor in the Museum Studies department at John F. Kennedy University in San Francisco. She now lives on Vashon Island in Washington State with her husband. Ms. Cushman s seven previous novels have helped historical fiction take a prominent place in children s literature. The first, "Catherine, Called Birdy," received a Newbery Honor. The second, "The Midwife s Apprentice," was awarded the Newbery Medal."