Don't Know Much about Anything: Everything You Need to Know But Never Learned about People, Places, Events, and More! (Abridged / Compact Disc)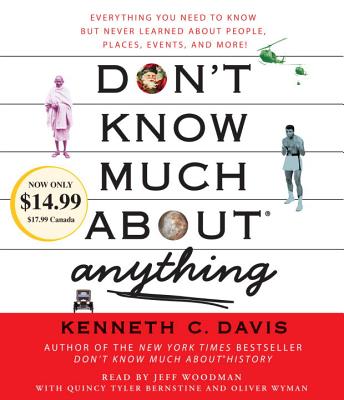 Description
---
Don't Know Much About Anything: Everything You Need to Know But Never Learned About Famous People, Exceptional Places, Historical Happenings, Holidays and Traditions, Everyday Objects, Remarkable Inventions, Space, Sports, Food, Entertainment and More is a compendium of around 275 columns, sorted into the subject categories listed in the subtitle. Quizzes on the atomic bomb, hamburgers, football, and The Wizard of Oz are included, along with the Emancipation Proclamation, cold weather, and Mother Theresa, to name a few.
Like all of Ken Davis' Don't Know Much About audiobooks,
Don't Know Much About Anything
will educate and inform listeners while allowing them to have fun.
About the Author
---
Kenneth C. Davis is the New York Times bestselling author of A Nation Rising; America's Hidden History; and Don't Know Much About(R) History, which sold more than 1.6 million copies, and gave rise to his phenomenal Don't Know Much About(R) series for adults and children. He blogs regularly at www.dontknowmuch.com.