Mean High Tide (Mass Market Paperback)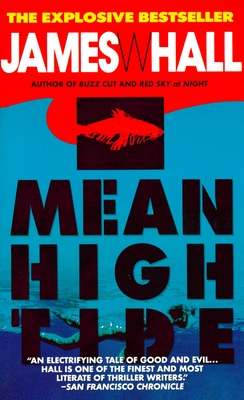 Description
---
Beneath the still blue waters offKey Largo a woman dives into a dazzling array ofcolor. But behind the shimmering schools of fish, somewhere in the shadows of the reef, a death trapawaits. In minutes one life will be expertly, brutally taken, and another plunged into a mean seasonof fury, obsession, and revenge... His name isThorn, his world is mangrove islands, open waters, andthe ghosts of a too-violent past. Darcy Richardswas everything to him. Now, finding her killer is.Wading into a seething mystery, Thorn iscatapulted into a nightmare of violence and deception.There lurks a sensual young woman with a hard come-on, an aging former mobster, and a diabolical ex-CIAman. What they all have in common is each other'smad ruthlessness -- and a little red fish that willmake some people very rich, and others verydead...
Praise For…
---
"Haunting... page-turning... [Hall] delivers  the eerie sexuality, matter-of-fact absurdity,  bizarre characters and convoluted plot that have  become his signatures" -- The Miami  Herald.

"An engrossing, spellbinding, and  a truly different work; a thriller with the real  thrills!" -- Nelson Demille.

"A  pounding action thriller!" -- The  New York Times Book Review.

"Rich atmosphere, wild in action and peppered with  colorful characters, hall nails you to each page  until the suspense-laden climax." -- Clive  Cussler.