Zoya (Mass Market Paperbound)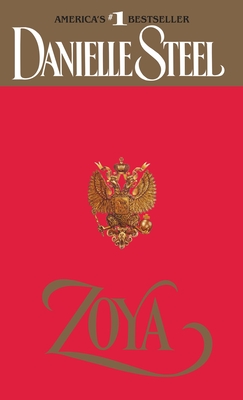 $8.99
Usually Ships in 1-5 Days
Description
---
Against the backdrop of the Russian Revolutionand World War I Europe, Zoya, young cousin tothe Tsar, flees St. Petersburg to Paris to find safety. Her entireworld forever changed, she faces hard times and joins the Ballet Russe in Paris. And then, when life is kind to her, Zoya moves on to a new and glittering life in New York. Thedays of ease are all too brief as the Depression strikes, andshe loses everything yet again. It is her career, and the man shemeets in the course of it, which ultimately save her, as sherebuilds her life through the war years and beyond. And it isher family that comes to mean everything to her. From the roaring twenties tothe 1980's, Zoya remains a rare and spiritedwoman whose legacy will live on.
About the Author
---
Danielle Steel has been hailed as one of the world's most popular authors, with over 650 million copies of her novels sold. Her many international bestsellers include Country, Prodigal Son, Pegasus, A Perfect Life, Power Play, Winners, First Sight, Until the End of Time, The Sins of the Mother, and other highly acclaimed novels. She is also the author of His Bright Light, the story of her son Nick Traina's life and death; A Gift of Hope, a memoir of her work with the homeless; Pure Joy, about the dogs she and her family have loved; and the children's book Pretty Minnie in Paris.
Praise For…
---
"Genuinely touching... It is the  misguided reader who skips a single page."  --People.