Prague Fatale (Hardcover)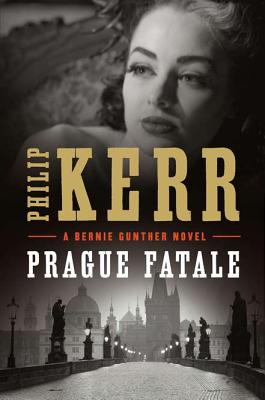 Please email or write store for pricing and availability information.
Description
---
A "Kirkus Reviews "Top Ten Crime Novel for 2012
September 1941: Reinhard Heydrich is hosting a gathering to celebrate his appointment as Reichsprotector of Czechoslovakia. He has chosen his guests with care. All are high-ranking Party members and each is a suspect in a crime as yet to be committed: the murder of Heydrich himself.
Indeed, a murder does occur, but the victim is a young adjutant on Heydrich's staff, found dead in his room, the door and windows bolted from the inside.Anticipating foul play, Heydrich had already ordered Bernie Gunther to Prague. After more than a decade in Berlin's Kripo, Bernie had jumped ship as the Nazis came to power, setting himself up as a private detective. But Heydrich, who managed to subsume Kripo into his own SS operations, has forcedBernie back to police work. Now, searching for the killer, Gunther must pick through the lives of some of the Reich's most odious officials.
A perfect locked-room mystery. But because Philip Kerr is a master of the sleight of hand, "Prague Fatale" is also a tense political thriller: a complex tale of spies, partisan terrorists, vicious infighting, and a turncoat traitor situated in the upper reaches of the Third Reich.
About the Author
---
Philip Kerr is the author of seven previous Bernie Gunther novels, most recently "Field Gray," which was a "New York Times" bestseller and a "Publishers Weekly "Best Book of 2011. Its predecessor, "If the Dead Rise Not," was a finalist for the Shamus Award for Best Hardcover Fiction. As. P. B. Kerr, he is the author of the young adult series Children of the Lamp."" Kerr lives in London.
Praise For…
---
"The allure of these novels is that Bernie is such an interesting creation, a Chandleresque knight errant caught in insane historical surroundings." —John Powers, Fresh Air, NPR



German private detective Bernie Gunther would have been respected by Philip Marlowe and the two of them would have enjoyed sitting down at a bar and talking. —Jonathan Ames, Salon.com



"Prague Fatale is classic Philip Kerr, a first-person noir detective story worthy of Dashiell Hammett or Raymond Chandler in every regard, seamlessly transplanted to war-era Europe. Every time I finish another Gunther novel, I think, "This is as good as it gets." Then inevitably, the next one comes along and is even better!"--Bruce Tierney, BookPage.com

"Bernie Gunther, the indomitable Berliner at the heart of this great series, is a man pummeled by history. . . . The great strength of Field Gray is Kerr's overpowering portrait of the war's horrors, [and] the glue holding it all together is Bernie himself, our battered, defiant German Everyman."—Patrick Anderson, The Washington Post



"A wily if unreliable narrator, Bernie may be forgiven for holding his cards so close to his chest as he tries to do the right thing in so many wrong places. Shades of the moral ambiguity of some of Graham Greene's and John le Carré's more memorable characters are here, as is the spirit of Raymond Chandler's knight-errant, Philip Marlowe. Kerr's ability to blend the elements of mystery and spy thriller into a satisfying package makes Field Gray the best in a long line of great entries in the series."—Paula L. Woods, Los Angeles Times



 



"In Prague Fatale, [Bernie Gunther] is back in the early days of the Second World War, dealing with a case that combines espionage, terrorism and a locked-room mystery [. . .] Philip Kerr does his usual fine job of setting the scenes and portraying the personalities of the era.  His Nazis are note-perfect creations, as are the other characters, fictional and historical, of Second World War-era Europe, all of it flavoured by the wisecracking, tough-talking Gunther, who has been called the Sam Spade of Germany.  Kerr knows his modern German history, and is gifted at storytelling, and Gunther is a dark anti-hero for the ages."--H. J. Kirchhoff, The Globe and Mail

"[Philip Kerr] is an absolute master of the genre."--The Courier-Journal

"[Prague Fatale] is clever and compelling, proving once again that the Bernie Gunther books are, by a long chalk, the best crime series around today." –The Daily Beast

"Inside this mesmerizing novel, set mainly in a country house outside Prague, is a tantalizing locked-door murder mystery that will thrill fans of Philip Kerr's Bernie Gunther novels."--Carol Memmott, USA Today