The Bonds of Love: Psychoanalysis, Feminism, & the Problem of Domination (Paperback)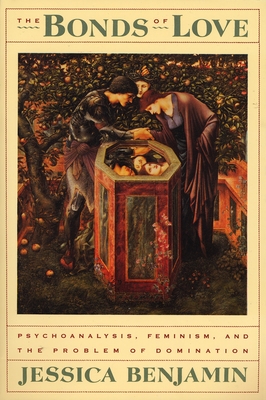 Description
---
Why do people submit to authority and derive pleasure even others have over them? What is the appeal of domination and submission, and why are they so prevalent in erotic life? Why is it so difficult for men and women to meet as equals? Why, indeed, do hey continue to recapitulate the positions of master and slave?
In The Bonds of Love, noted feminist theorist and psychoanalyst Jessica Benjamin explains why we accept and perpetuate relationships of domination and submission. She reveals that domination is a complex psychological process which ensnares both parties in bonds of complicity, and shows how it underlies our family life, our social institutions, and especially our sexual relations, in spite of our conscious commitment to equality and freedom.
About the Author
---
Jessica Benjamin is a practicing psychoanalyst in New York City and is on the faculty of the New York University Postdoctoral Program in Psychotherapy and Psychoanalysis. Her highly acclaimed articles have been published in feminist and psychoanalytic journals and are widely anthologized.
Praise For…
---
"A clear, closely argued study of power and desire, which succeeds in making psychic life a social reality."
—Richard Sennett, author of The Fall of Public Man

"An important book . . . an amazingly lucid account of the way power all too often becomes intertwined with gender."
—Ethel Person, The New York Times Book Review

"Many of us have long admired Jessica Benjamin's intricate rethinking of social theory and psychoanalytic theory. The Bonds of Love gives us Benjamin at her best, and psychoanalytic social theory at its best, as she demonstrates brilliantly the complex intertwining of familial, gender, and social domination."
—Nancy Chodorow, author of The Reproduction of Mothering