The End of Forever (Paperback)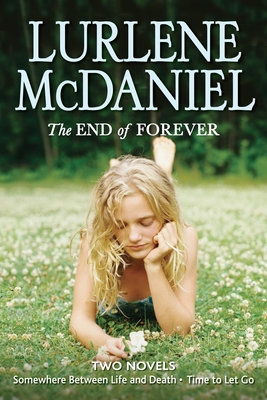 Description
---
n this newly packaged omni trade paper edition, Lurlene McDaniel explores
the complexities of not only accepting unexpected loss, but also of moving on to
live and love again. This omni includes:
Somewhere Between Life and Death depicts the life of two typical teenage
sisters. When their existence is shattered due to a tragic car accident, courage
and strength are needed to make the difficult choices presented as a result.
Time to Let Go chronicles the aftermath of a painful loss and how each of those
left behind struggle to deal with their grief, in order to move forward.
About the Author
---
LURLENE MCDANIEL began writing inspirational novels about teenagers facinglife-altering situations when her son was diagnosed with juvenile diabetes. Hernovels are hard-hitting and realistic, but also leave readers with inspiration andhope. Her books have received acclaim from readers, teachers, parents, andreviewers. Her bestselling novels include Don't Die, My Love; Till Death Do UsPart; Hit and Run; Telling Christina Goodbye; True Love: Three Novels; and TheEnd of Forever. Lurlene McDaniel lives in Chattanooga, Tennessee.