Heart of Glass (Hardcover)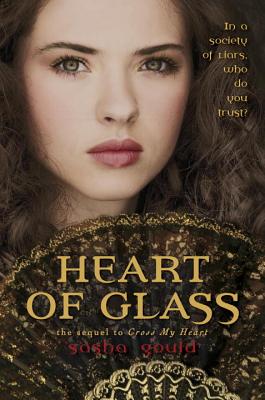 Description
---
Love, lust, and deadly secrets permeate the lives of Venice's nobility in this thrilling sequel to the romantic and mysterious Cross My Heart.

In a society of liars, who do you trust?

It is 1585 in Venice, and three months have passed since Laura della Scala solved her sister's murder after joining the Segreta, a powerful society of women who trade protection for secrets. Now Laura is engaged to her true love, Roberto, and she has never been happier. But the night Laura is sent on her first important mission for the Segreta, Roberto is found with the body of a dead woman in his room. Halim, an irresistibly handsome Turkish prince on a diplomatic visit to the city, identifies the woman as his sister and insists that Roberto be executed for her murder, or the Ottoman Empire will attack Venice. Laura is desperate to save both her city and her fiance. But as the evidence against Roberto builds and Laura finds herself increasingly drawn to Halim, she begins to wonder whether everything Roberto told her was a lie. What Laura discovers is a conspiracy that involves nearly everyone she knows.
Once again, feisty, fearless, feminist Laura narrates her story in the present tense, giving it a breathless pace, nail-biting excitement and female insight as she sashays along the canals and corridors and through the slums and palaces of Venice, unraveling secrets and breaking hearts. Romance, revenge, treachery and intrigue. Kirkus Reviews

Full of intrigue, romance, and adventure, this sequel to Cross My Heart is relentless in its pace and fully realized in its vivid historical setting. Booklist

Renaissance Venice gets an injection of Pretty Little Liars in Sasha Gould's Heart of Glass, the follow-up to Cross My Heart. . . . From gondolas to galas, Laura takes on the status quo and turns it upside down in her quest for the truth. TeenReads.com

About the Author
---
SASHA GOULD lived in Venice until she was nine years old. She later studied fashion in London. Her favorite things are opera, ballet, and romantic movies. She now lives in the Lake District of England with her cat, Tosca, and writes about Venice, the beautiful and mysterious city she knows and loves. Heart of Glass is her second novel.
Praise For…
---
Kirkus Reviews, February 1, 2013:
"Once again, feisty, fearless, feminist Laura narrates her story in the present tense, giving it a breathless pace, nail-biting excitement and female insight as she sashays along the canals and corridors and through the slums and palaces of Venice, unraveling secrets and breaking hearts. Romance, revenge, treachery and intrigue."

Booklist, March 1, 2013:
"Full of intrigue, romance, and adventure, this sequel to Cross My Heart (2012) is relentless in its pace and fully realized in its vivid historical setting."