Who's on Worst?: The Lousiest Players, Biggest Cheaters, Saddest Goats and Other Antiheroes in Baseball History (Hardcover)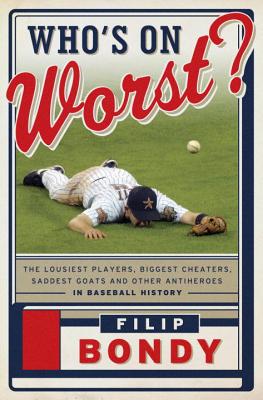 Description
---
A hilarious celebration of the worst in baseball history: The boneheads, cheats, jerks and losers who make the grand old game so fun

Libraries and Internet sites are filled to groaning with debates about who the best ballplayers of all time were—but how many times can you argue about Mantle vs. Mays? Since baseball is a game of failure, it's much more fun to dive into the fray and explore baseball's worst: who was the lousiest pitcher of all-time? the biggest goat? the most despicable owner? the greatest cheater?

Filip Bondy wields formidable research, advanced sabermetrics and his considerable wit to provide this indispensable guide to the less glorious side of our national pastime. Each chapter is filled with rich and colorful stories of the players unfortunate enough to be chosen in each category and is followed by a handy top-ten list, such as Most Overpaid Yankees.

From a delightful survey of batters who fell below the dreaded "Mendoza Line" to a rundown of managers who had long careers distinguished by relentless losing to a roster of players who took steroids but still stunk, Who's on Worst? is a thoroughly entertaining portrait of the personalities who deserve their place in baseball history as much as the immortals.
About the Author
---
Filip Bondy is a sports columnist for the "Daily News," where he has worked since 1993. He has been cited as one of the top ten sports columnists in America by the Associated Press Sports Editors. Over the years, his articles have appeared in such publications as the "New York Times," "Sports Illustrated," "GQ," and the "Village Voice." He has also authored or co-authored six books, including "Tip Off: How the 1984 NBA Draft Changed Basketball Forever "and "Chasing the Game: American and the World Cup."
Praise For…
---
PRAISE FOR FILIP BONDY'S WHO'S ON WORST?

"[AN] HILARIOUS PANTHEON OF DISHONOR." --The Wall Street Journal

"This Spring, Filip Bondy provides a delightful, quick-read twist on the bests and firsts of baseball culture. Who's on Worst? is an authoritative romp, humorously spot on, through Bottom Ten lists across the national pastime." -- The Charleston Post and Courier

"Wry, witty, and well-researched, Bondy's book mixes facts with humor and offers an entertaining guide to those famously flawed individuals who have halped to immortalize the game." -- Cleveland Plain Dealer

"An amusing record of bad, ugly, and knuckle-headed ballplayers." -- World Magazine

"A diverting read for folks impatient for Opening Day." -- "Only A Game," NPR

"Clearly intended to get conversations started at your favorite sports bar or man cave. On that level, Who's on Worst? connects."
-- Journal Interactive

"Baseball, a sport that often takes itself too seriously, gets a much-needed burst of fresh air in Filip Bondy's witty and meticulously researched gem of a book on the major league players who fit such hilarious categories as "Too Fat To Bat" and "Even Steroids Didn't Help." One of our very best sports writing satirists, Bondy is the perfect choice to identify and catalog baseball's worst."
 -- Harvey Araton, author of Driving Mr. Yogi: Yogi Berra, Ron Guidry and Baseball's Greatest Gift

"Filip Bondy, one of the best sports columnists anywhere, humanizes deified athletes like nobody can in Who's on Worst?, a highly entertaining look at those ballplayers who have exposed their flaws at the worst possible times. A must read for fans of baseball and (other people's) misery, as the only significant figure who doesn't choke or screw up in this book is Bondy himself."
-- Ian O'Connor, New York Times bestselling author of The Captain: The Journey of Derek Jeter

"New York Daily News sportswriter Bondy offers a compendium of the lore that has elevated baseball to religious status. The title – a play on the Abbott and Costello vaudeville skit, "Who's on First?" – is an appropriate summary of a sport that is "all about failure." Bondy mixes humor with fact and a fan's passion in unearthing those who have contributed their talents. He reaches back to the 19th century for Frederick "Crazy" Schmit (a pitcher who kept notes on hitters and "quite often pulled out his notebook on the mound"), while not shying away from today's stars. The narrative is divided into chapters like "Too Fat to Bat," and "What's an Emery Board?" about pitchers who thought they could use a little help. Deft turns of phrases about players such as Dave DeBusschere, who "wasted his baseball talent winning NBA titles," lend irony to an already amusing look at players who have "elevated failure, or folly, to fresh, artful levels."
– Publishers Weekly

This fun-filled compendium of baseball's worst hitters, fielders, and pitchers, extends the genre to relate the most overpaid Yankees, the most overpaid non-Yankees, and other dubious distinctions...A thoroughly enjoyable light read for all baseball fans."
--Library Journal

"Filip Bondy notes that each baseball game has twenty-seven outs. That's twenty-seven instances of failure. Yet he argues, 'Some players over the decades have elevated failure or folly, to fresh, artful levels.' Instead this book ranks and codifies the biggest cheats, losers, chokers, worst teammates, goats, overpaid Yankees, and hitters that could not break the Mendoza line (a .200 batting average).  With quick, breezy paragraphs chock full of stats and quotes, Bondy carefully makes a case for his ranking of the top ten in each category...The details are simply hysterical to any baseball fan."
--Unshelved.com