Life's a Pitch (Paperback)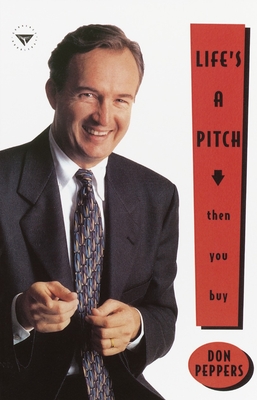 $19.00
Usually Ships in 1-5 Days
Description
---
Learn How To Get Everything You Want AndMore In The Ultimate Book On The Not-So-GentleArt Of Persuasion From Don Peppers
,
Pitchman Extraordinaire And Author Of TheOne-To-One Future
(46,000 Sold).
Inbusiness, a pitch is a closed-end, winner-take-allcontest. It involves one prospective customer andtwo or more hopeful suppliers, each struggling todefeat the others and win the account. Sometimesthe business is won on the basis of price, butoften -- especially where professional services areconcerned -- the determining factor isintangible. Who, the client wants to know, will fighthardest for me in court, come up with the mostinspired ad campaign, bring my products to the most newmarkets?
In
Life's APitch
...
And Then You Buy
, DonPeppers shows us how to craft a pitch that isguaranteed to simultaneously win the confidence (andbusiness) of prospective clients and defeat thecompetition. Peppers's fail-safe system teachesmastery of three levels of the pitch: salesmanship, psychology, and game theory. Peppers believesthat the strongest pitches appeal to a person'semotional makeup and the very subtle, extremelypersonal "hot buttons" that make each of usinto feeling and thinking creatures. Peppers showshow you can design pitches that capture yourclients' hearts and throw your competition off balanceat the same time.
In fast-paced prose, Peppers covers all the bases, including: overcomingobjections, seeing eye-to-eye with your prospects, speaking the customer's language, prospecting, andfollow-up. No matter what field you're in, Peppers's lessons will help you master the art ofpersuasion.
From the Hardcover edition.