The Vine of Desire (Paperback)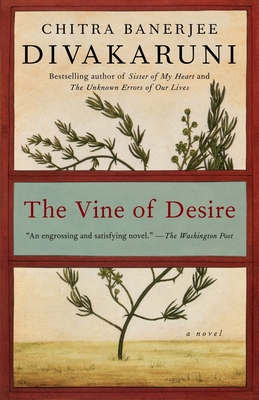 $16.00
Usually Ships in 1-5 Days
Description
---
The beloved characters of Chitra Banerjee Divakaruni's bestselling novel Sister of My Heart are reunited in this powerful narrative that challenges the emotional bond between two lifelong friends, as the husband of one becomes dangerously attracted to the other.
Anju and Sudha formed an astounding, almost psychic connection during their childhood in India. When Anju invites Sudha, a single mother in Calcutta, to come live with her and her husband, Sunil, in California, Sudha foolishly accepts, knowing full well that Sunil has long desired her. As Sunil's attraction rises to the surface, the trio must struggle to make sense of the freedoms of America-and of the ties that bind them to India and to one another.
About the Author
---
Chitra Banerjee Divakaruni is the bestselling author of the novels Sister of My Heart and The Mistress of Spices; the story collections The Unknown Errors of Our Lives and Arranged Marriage, which received several awards, including the American Book Award; and four collections of prize-winning poetry. Her work has appeared in The New Yorker, The Atlantic Monthly, Ms., Zoetrope, Good Housekeeping, O: The Oprah Magazine, The Best American Short Stories 1999, and The New York Times. Born in India, Divakaruni lives near Houston. For further information about Chitra Banerjee Divakaruni, visit her Web site at www.chitradivakaruni.com.
Praise For…
---
"An engrossing and satisfying novel." –The Washington Post

"Divakaruni is gifted with dramatic inventiveness [and] lyric, sensual language. . . . The Vine of Desire offers many delights." –Los Angeles Times Book Review

"Divakaruni is an incomparable storyteller. . . . the beauty of her talent is her ability to capture the true complexity of the emotional landscape in her characters. . . . A lovely read." –The Denver Post

"Incandescent. . . . Abounds with vibrant images." –Houston Chronicle

"Grab The Vine of Desire. Divakaruni is a transplanted cultural treasure [and] a brilliant storyteller." –The Seattle Times

"As gracefully structured as a piece of chamber music." –San José Mercury News

"Chitra Banerjee Divakaruni fills a space all her own. . . . Her fiction draws a line straight to the heart." –The Atlanta Journal-Constitution

"Divakaruni. . . . paints worlds of complex characters and cultures with an absorbing story line and beautiful language that reads like poetry." –The Oregonian

"Compassionate. . . . Provid[es] with graceful economy a complex backdrop of contemporary Indian society." –The Boston Sunday Globe

"Dazzling and powerful. . . . Divakaruni's descriptions, as always, possess a fine lyrical beauty. . . . Readers . . . will have much to feast on." –The San Diego Union-Tribune

"Moving, passionate. . . . A beautiful, imperfect journey, much like life itself, and one well worth taking." –Austin American-Statesman

"[An] exquisitely rendered tale of passion, jealousy, and redemption. . . . Divakaruni combines a gift for absorbing narrative with the artistry of a painter." –Publishers Weekly

"A potent, emotional book delivered by a writer who knows when to step back and take in the poetry." –Book

"Compelling. . . . Divakaruni writes prose that is lush. . . . [She] excels at depicting the nuances of the immigrant experience." –SF Weekly