The Holy Longing: The Search for a Christian Spirituality (Paperback)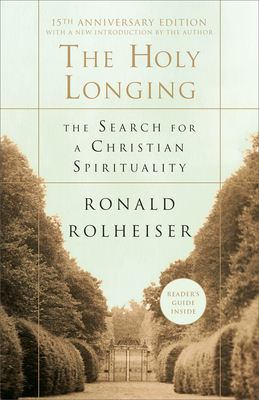 $15.00
Usually Ships in 1-5 Days
Description
---
Channeling the deep, mysterious desires of our hearts, Ronald Rolheiser leads readers from restlessness to peace, showing a contemporary path to authentic and healthy spiritual life.
In
The Holy Longing,
Ronald Rolheiser probes the question "What is spirituality?," cutting through the misunderstanding and confusion that can often surround this subject with his trademark clarity. Using examples and stories relevant for today, and with great sensitivity to modern challenges to religious faith, he explains the essentials of spiritual life, including the importance of community worship, the imperatives surrounding social action, and the centrality of the Incarnation, to outline a Christian spirituality that reflects the yearning and search for meaning at the core of the human experience. Essential reading for anyone seeking to understand what Christian spirituality means and how to apply it to their own lives,
The Holy Longing
translates the universal struggle for love and integration of spirit into a language accessible to all, explaining God and the Church for a world that more often than not doubts the credibility of both.
About the Author
---
RONALD ROLHEISER, O.M.I., a Roman Catholic priest and member of the Missionary Oblates of Mary Immaculate, is president of the Oblate School of Theology in San Antonio, Texas, and the author of the books The Restless Heart, Forgotten Among the Lilies, The Shattered Lantern, and Against An Infinite Horizon. He is a community-builder, lecturer and writer, and his weekly column appears in more than 90 Catholic publications. More information on his work can be found at ronrolheiser.com.
Praise For…
---
"One of the best books on Christian spirituality ever written.  I have recommended The Holy Longing to literally dozens of people–from the devout believer to the doubtful seeker–and all have found it a great help in moving closer to God. Rolheiser's introduction to the spiritual life is accessible, inviting, useful, insightful and wise.  And his chapter on sexuality is one of the best essays I've read on the topic–anywhere."
– James Martin, SJ, author of The Jesuit Guide to (Almost) Everything

"A master weaver is at work here–I found my soul on every page. At last we have a guide who helps us know what to do with the fire of desire within us. At last a comprehensive, life-giving approach to sexuality. At last a dynamic understanding of how the paschal mystery plays in our own lives. At last a way to weave love for the poor and struggling people with the highest mystical love of God...I love this book."
–Sister Helen Prejean, author of Dead Man Walking

"Rolheiser dares to ask the hard questions but they are our questions–the deep ones we are slow to let surface. Then he dares to answer them with clear answers delivered in simple, straightforward language. But he doesn't corner us with his clarity.  He lets us look at different spiritualities, even a spirituality of sexuality. This is a book that engenders hope because it shows there are paths for each one of us."
–Rev. Basil Pennington, O.C.S.O.

"Spiritual books abound but few hit the mark. Ronald Rolheiser's latest book is one of the few. Sound good sense and insight are combined with genuine sympathy and understanding for the majority of us who struggle spiritually."
–Alban McCoy, The Tablet

"Spirituality is often given a bad name because it can mask a damaging sentimentality. The Holy Longing is a bracing alternative to religious posturing. Truly incarnational, Ronald Rolheiser grounds his vision of the spiritual life in hard real-life experiences and tells tough truths. In the end, it is the hard truths of compassion, forgiveness, and action in the world, that give us a true and lasting hope. A much needed antidote to the consumerist view of religion, this book is both a delight and a challenge to read."
–Alan Jones, Dean of Grace Cathedral and author of The Soul's Journey

"He writes clearly and engagingly, his language can at times be lyrical. He is never sentimental--and all the time he is absolutely grounded in reality."
–Herbert O'Driscoll, author of A Doorway in Time

"Without doubt, Ronald Rolheiser's The Holy Longing is one of the best books about Christian spirituality that has been published in many a year. Its insights are just what all of us need at this moment of history. It blends the old and the new in ways that few other authors can do."
–Most Reverend Rembert G. Weakland, O.S.B., Archbishop Emeritus of Milwaukee