Just Visiting This Planet (Paperback)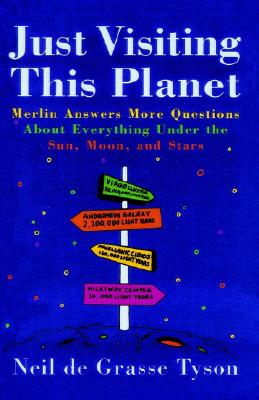 Description
---
In a companion volume to Merlin's Tour of the Universe, here is a completely new collection of questions and answers about the cosmos for stargazers of all ages. Whether waxing about Earth and its environs, the Sun and its stellar siblings, the world of light, physical laws, or galaxies near and far, Merlin--a fictional visitor from Planet Omniscia--is easy to understand, often humorous, and always entertaining. Merlin fields a wide range of questions from many curious mortals, and in so doing draws on his own vast knowledge as well as the expertise of many close friends, including Archimedes, Galileo, Einstein, and Santa. So far, Merlin has not been stumped, responding to questions on mysteries such as: If aliens exploded our moon, what effect would it have on us?
What are your thoughts on the theory that a star named Nemesis is circling our solar system and was responsible for killing off the dinosaurs?
Is it true that if I leave a container on my roof for a period of time, I can actually collect space particles from outer space? Delightfully illustrated throughout, Just Visiting This Planet is a skywatcher's book for lovers of the universe by one of its brightest lights.
About the Author
---
Neil de Grasse Tyson, author of Merlin's Tour of the Universe, is the recently appointed Frederick P. Rose Director of the Hayden Planetarium, where he is the project scientist for the $100-million rebuilding of the nation's greatest astronomical attractions. He attended the Bronx High School of Science and earned his B.A. in physics from Harvard and his Ph.D. in astrophysics from Columbia. Tyson also writes a monthly column, "Universe," in Natural History magazine. He is on the visiting faculty at Princeton University and makes his home in New York City.
Praise For…
---
"Tyson has created a space-age Merlin. An astrophysicist and educator, Tyson weaves together imaginative with straightforward science." --USA Today