Fairways and Greens (Paperback)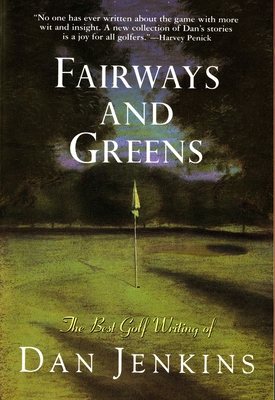 Description
---
"Tell me about plumbing, fine. Tell me aboutcarpentry, terrace gardening, the timer on VCRs. Goahead and explain cellophane. Tell me about all ofthese things, but don't try to tell me about golf, okay? Golf I know."--DanJenkins
After four decades of covering golf-not tomention "playing scratch from the blues andgambling for my own money when I didn't haveany," Dan Jenkins most definitely knows golf. He may, in fact, know the game better than anyone on theplanet. Now, his latest and long awaitedcollection brings together his best writing on the game, from serious pieces on timeless classics like the1954 Masters and the 1960 Open to humorous takes oneverything from the best things in golf-the bestbar is Club XIX in the Pebble Beach Lodge-to hisunrequited love of golf carts. With a cast thatincludes everyone from Hogan, Palmer, and Nicklaus toall of the lurkers and spoilers on the PGA Tour, the book is a timeless addition to great golfliterature.
About the Author
---
Dan Jenkins is the author of several novels and nonfiction books, including Semi Tough, Dead Solid Perfect, and Rude Behavior, and writes an enduringly popular column in Golf Digest. He is the sponsor of The Dan Jenkins Goat Hills Partnership, a charity golf tournament that attracts players from around the world. He divides his time between Fort Worth, Texas, and New York City.
Praise For…
---
"I have followed Dan Jenkin's career since  his days as a college golfer. No one has ever  written about the game with more wit and insight. A  new collection of Dan's stories is joy for all  golfers."--Harvey  Penick.

"Dan Jenkins is more  fun than a tap-in Eagle."--Rick  Reilly

"Dan Jenkins is the only writer I read  and laugh out loud, even when I am among sleeping  passengers on a long distance flight!"--Robert  Trent Jones II