The Complete Book of Juicing: Your Delicious Guide to Youthful Vitality (Paperback)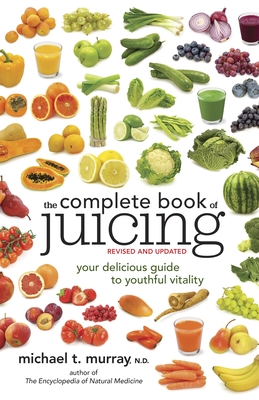 Description
---
With fifty new recipes and new information on the benefits of juicing and juice cleanses, here is the completely revised and updated edition of this juicing category killer.
The first completely revised edition of this juicing classic, The Complete Book of Juicing is packed with new information on super fruits such as pomegranate and papaya, weight-loss and juice fasts, immune function, juicers, and more. With one hundred fruit and vegetable recipes and a fresh new package, this book is a user-friendly and fun necessity for any juicing kitchen.
About the Author
---
Dr. Michael T. Murray is the author ofover 30 books, including the acclaimed bestsellersThe Encyclopedia of Natural Medicine(Third Edition) andTheEncyclopedia of Healing Foods(co-authored with Dr. Joseph Pizzorno).He isregarded as the world authority on natural medicine and appears regularly innational media, including the Dr. Oz Show. An educator, lecturer, researcherand health food industry consultant, Michael also constantly updateshis healthinformation portal: DoctorMurray.com."