The DC Comics Guide to Creating Comics: Inside the Art of Visual Storytelling (Paperback)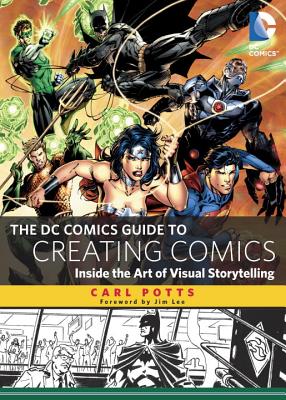 $24.99
Usually Ships in 1-5 Days
Description
---
The most exciting and comprehensive book yet in the bestselling DC Comics how-to-draw series.
From the bestselling DC Comics Guide series, this is the essential resource for aspiring comics creators looking to make intriguing, action-packed comics like the experts at DC Comics. Going beyond the typical art and writing lessons, this book shows readers how to take full advantage of comics' sequential visual storytelling possibilities. With examples direct from DC Comics, featuring their best creators and classic superheroes like Batman, Superman, and the rest of the Justice League, it presents key principles and techniques for crafting exciting professional-quality comics. This behind-the-curtain look at the DC Comics creative process is a can't-miss opportunity for aspiring comics creators, whether they want to work for DC Comics or invent their own unique comics creations.
About the Author
---
CARL POTTS is a creative director, an editor, an artist, and a writer with years of experience in the comics industry. During his time at Marvel Comics, he discovered and mentored many top comics talents, including Jim Lee, Whilce Portacio, and Mike Mignola. Currently, Potts consults for a variety of publishing, interactive, and entertainment companies, including HarperCollins, Ogilvy & Mather, and the Learning Company. In addition, he's given seminars on visual storytelling techniques at the School of Visual Arts, Parsons, New York University, LucasArts, Academy of Art University, and the Savannah College of Art and Design.
Praise For…
---
"...For the artists who are serious about making comics their career, this book belongs in a place of honor among others in their personal libraries."
-Edward Gambichler, www.whatchareading.com

" Instead of "how to" advice, [The DC Comics Guide to Creating Comics] is more about "why", and I found it a highly educational read, full of good observations about comic construction and structural techniques. There is a ton of really solid information in this book, including the basis of a shared vocabulary (taken in equal parts from Understanding Comics and film phrasing). If more creators followed the advice given here, we wouldn't have some of the confusing-to-read superhero comics we do. As a critic, the concepts help me better understand when something is well- (or poorly) constructed and why. "
-www.comicsworthreading.com

 "If you are an aspiring comic creator, writer, or artist, this is one book you need to read right now. It gets into some of the meat and bones of what makes a good comic. It's more than the story. It's more than the art. It's different than other types of media. And, even if you're only doing one part (i.e. you're not the sole creator of the finished work), you need to understand all the parts and how to bring them together to create a comic. If you're just a fan of comics, this book should still be on your reading list...I highly recommend this as a permanent part of your library for fans and creators alike."
-Sheena McNeil, www.sequentialtart.com