Genghis: Birth of an Empire (Paperback)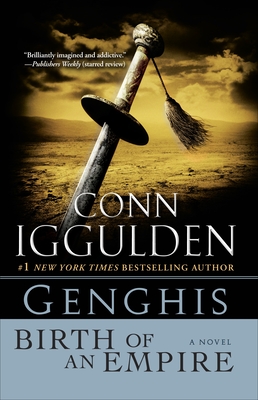 $16.00
Usually Ships in 1-5 Days
Description
---
From the author of the bestselling The Dangerous Book for Boys

Genghis Khan was born Temujin, the son of a khan, raised in a clan of hunters migrating across the rugged steppe. Shaped by abandonment and betrayal, Temujin endured, driven by a singular fury: to survive in the face of death, to kill before being killed, and to conquer enemies who could come without warning from beyond the horizon. Through a series of courageous raids, Temujin's legend grew until he was chasing a vision: to unite many tribes into one, to make the earth tremble under the hoofbeats of a thousand warhorses, to subject all nations and empires to his will.

About the Author
---
Conn Iggulden is the author of Genghis: Birth of an Empire, the first novel in the series, as well as the Emperor novels, which chronicle the life of Julius Caesar: Emperor: The Gates of Rome, Emperor: The Death of Kings, Emperor: The Field of Swords, and Emperor: The Gods of War, all of which are available in paperback from Dell. He is also the co-author of the bestselling nonfiction work The Dangerous Book for Boys. He lives with his wife and three children in Hertfordshire, England. From the Hardcover edition.
Praise For…
---
"Zesty historical fiction, the kind with plenty of unbridled combat, accurate research, rampaging hordes and believable characters from very different cultures whose motivation rings true across the centuries.... Invigorating."—Deirdre Donahue, USA Today

"Iggulden writes with sweep and immediacy...the novel races along as swiftly and inexorably as its main character."—Christian Science Monitor

"Brilliantly imagined and addictive.... This is historical fiction of the first order."—Publishers Weekly, starred review

"Compelling.... this is historical fiction writ large."—Military.com