Tara Road (Paperback)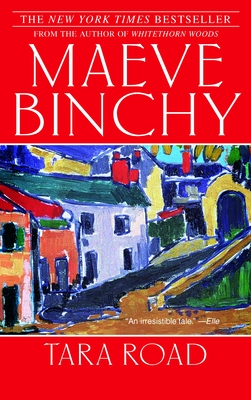 $16.00
Usually Ships in 1-5 Days
Description
---
Ria lived on Tara Road in Dublin with her dashing husband, Danny, and their two children. She fully believed she was happily married, right up until the day Danny told her he was leaving her to be with his young, pregnant girlfriend. By a chance phone call, Ria meets Marilyn, a woman from New England unable to come to terms with her only son's death and now separated from her husband. The two women exchange houses for the summer with extraordinary consequences, each learning that the other has a deep secret that can never be revealed. Drawn into lifestyles vastly differing from their own, at first each resents the news of how well the other is getting on. Ria seems to have become quite a hostess, entertaining half the neighborhood, which at first irritates the reserved and withdrawn Marilyn, a woman who has always guarded her privacy. Marilyn seems to have become bosom friends with Ria's children, as well as with Colm, a handsome restaurateur, whom Ria has begun to miss terribly. At the end of the summer, the women at last meet face-to-face. Having learned a great deal, about themselves and about each other, they find that they have become, firmly and forever, good friends. A moving story rendered with the deft touch of a master artisan, Tara Road is Maeve Binchy at her very best--utterly beautiful, hauntingly unforgettable, entirely original, and wholly enjoyable. From the Hardcover edition.
About the Author
---
Maeve Binchy was born and educated in Dublin. She is the bestselling author of The Return Journey, Evening Class, This Year It Will Be Different, and The Glass Lakes. She has written two plays and a teleplay that won three awards at the Prague Film Festival. She has been writing for The Irish Times since 1969 and lives with her husband, writer and broadcaster Gordon Snell, in Dublin. From the Hardcover edition.
Praise For…
---
"Her best work yet...Tara Road is like a total immersion in a colorful new world, where the last page comes too soon."—Seattle Times

"An irresistible tale."—Elle

"Engrossing."—Wall Street Journal

"A tender novel of the pleasures and pitfalls of friendship, Tara Road is an ultramodern
love story for women, about women, between women that is sure to delight."—Newsday

"Difficult to put down!"—Denver Post

"One of Binchy's best."—Kirkus Reviews


From the Paperback edition.